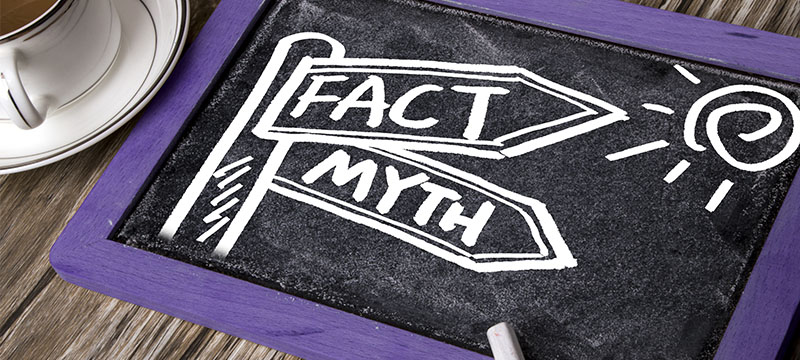 Don't be April-Fooled by These 10 Common Real Estate Myths!
April Fools' Day is just around the corner and there already are a lot of common misconceptions about some things in the real estate world. We're just going to go ahead and give you a little advice here… don't be an April Fool and get caught up in any myths you may hear as you're trying to buy or sell a home this spring.
Here are 10 common real estate myths we'd like to explain today:
1. You should set your home price higher than you expect it to sell for.
If you hear this myth, you may just want to turn around and run in the other direction. Not only is this untrue, but it is bad advice. Home prices should be reasonably set to best reflect a home's value. A professional real estate agent is easily able to do this by conducting a comparative market analysis of similar recently-sold or currently-listed homes. The bottom line is that home prices should be carefully set to accurately reflect what each home is worth. Remember, you never get a second chance to make a first impression with buyers.
2. If you ain't got curb appeal, you've got no deal.
This is actually a common real estate myth that rings pretty true. If your home is on the market, but you fail to keep up with the exterior, including everything from lawn maintenance and landscaping to an inviting, well-lit front stoop, buyers may see no need to even step inside. Curb appeal is a very big deal when it comes to showcasing a home.
3. You'll reap what you sow when it comes to home renovations.
Though you had your heart set on granite countertops and industrial appliances in your renovated kitchen, don't expect buyers to foot the bill and then some for your high-end choices. Of course, there are some renovations that make sound financial sense, but valued home renovations run on a case-by-case basis when it comes to being cost-effective or even lucrative.
4. You need to cover bright, bold paint colors before you list a home.
It may be true that prospective buyers prefer a clean slate when they enter a home; you know, so they can envision their belongings inside and make their own choices about whether they'd like to paint or not. Some see bold paint color choices as instant work upon move-in. However, a tastefully-painted accent wall can be seen as an asset for a prospective buyer. So, if you've carefully considered your bold paint choices, it is possible that you may strike buyer interest. But, you should know that you could be taking a gamble, regardless.
5. Holiday decorations have got to go before you show.
Though we may not be in the midst of the most heavily-decorated holiday season, sellers often are told that they need to depersonalize their home to such a degree that they feel they cannot let any holiday decorations remain. Frankly, this is just untrue. Tasteful holiday décor can enhance a home's appeal and should be used to a seller's advantage if a home is on the market during a holiday season. However, once a holiday is over, decorations should be promptly removed and stored to keep a listed-home looking pristine.
6. It is impossible to sell a home with a swimming pool.
With warmer weather upon us, many people may be dreaming of spending their days by the pool sipping their favorite beverages. OK, so maybe not every home buyer envisions themselves lying beside their newly-acquired pool. In fact, some buyers may find it hard to look past the certain maintenance that owning a pool requires. But, in certain climates, homes with pools are incredible assets. Even in areas where pools may only get used a few months out of the year, some buyers still crave their own at-home oasis!
7. You should never buy the biggest home on the block.
It's not that you shouldn't buy the biggest or most expensive home in an area. But, if you do, you should go into the purchase knowing that your home's value will be affected by the values of nearby homes in the community. If other homes are worth much less, your property value may decrease. So, is it safer to buy a more modest home in lieu of the most expensive home on the block? It may be; but, if you're financially capable and your heart and mind are telling you "yes," the biggest home on the block may be for you.
8. Buyers can get a better deal if they don't have an agent.
Some buyers believe that if they enter a real estate transaction with no agent, they can receive a better deal, because the seller won't have to pay their agent's commissions. However, this could just be a better deal for the seller's agent. Real estate commissions are a percentage of the selling price. If a buyer enters a real estate transaction with no representation, a seller's agent may receive all of that percentage.
9. Selling a home without a realtor will save money.
Well, doesn't this just go hand-in-hand with a buyer who thinks they can get a better deal without an agent?! "For Sale by Owner" or FSBO listings statistically garner less profit than agent-brokered sales. Real estate agents simply have more industry and marketing know-how, more connections and more savvy to get a home sold for the most profit. So, though a seller may "save" on real estate agent commissions, they may lose much more on their overall selling price.
10. A real estate agent… is a real estate agent… is a real estate agent.
In reading myths #9 and #10, you've probably gathered that whether you're buying or selling, it makes sense to get an agent. But, you should also know that no agent is the same. When you're ready to move forward with your real estate transaction, you should do so with a reliable, professional real estate agent that you trust and that you are compatible with, because the home-buying-and-selling processes can be long and arduous. You're going to want to work with someone you like!
Need any other real estate myths debunked or are you ready to buy or sell a home? Contact a Berkshire Hathaway HomeServices The Preferred Realty agent to have your questions answered today.