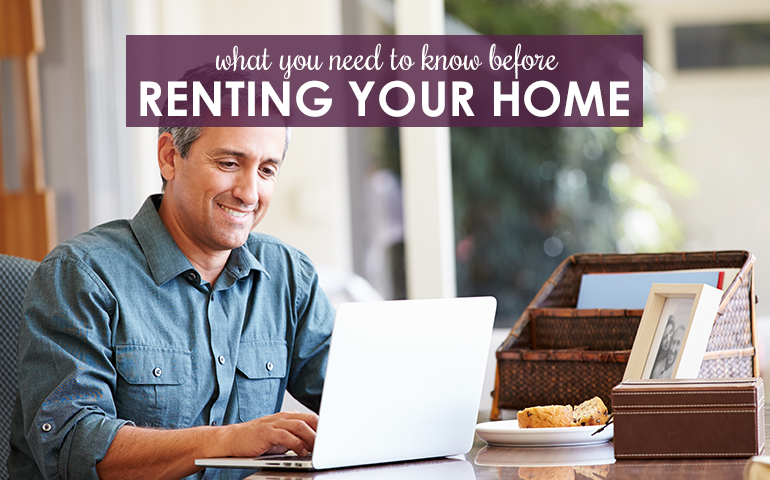 Five Things You Need to Know Before Renting Out Your Home
With so much competition in busy real estate markets right now, some potential home sellers may be considering renting out their homes instead of listing. Of course, there are certain benefits to renting out your home, but there also is certain responsibility. If you are thinking about becoming a landlord, here are five things you'll want to know about renting first:


1. Can you handle being a landlord?
Renting out your home can be a great source of income. But it also can be a great headache. Even if you go under the assumption that your tenants will always pay their rent in a timely manner, you still need to consider the regular home maintenance and repairs that come with home ownership. After all, your rental property is still your property. Oh, and, are you certain your tenants will always pay on time? Will they take care of your home the way you would? Make sure you are prepared to deal with those—sometimes daily—landlord issues before you rent out your home.

2. What laws apply to you?
Once you decide that you'll be able to handle the home management and financial side of renting out your home, you need to find out if you'll be able to handle the legal side too. Do your research on applicable tax codes and housing laws long before you dive into searching for tenants. Seek professional help to draft a lease agreement t that will cover you and your home appropriately.

3. Will your tenants have pets?
Maybe this question should fall under that whole "can you handle being a landlord" category. You'll need to determine up front if you're ok with any pets your tenants may bring into your home. Are you OK with a tenant's four-legged, furry family members staying in your home? Will you be able to find a tenant that does not have a pet? Or one who won't lie about a pet just to secure your rental? That may be a worst-case scenario, but you need to cover all bases when it comes to your property.

4. Will your tenants have any habits your home can't handle?
When you rent out a property, you're asking someone to take care of one of your greatest investments. Basically, you need to be OK with their habits, even ones you may not like. Consider this instance… you meet a potential tenant who checks every box but also is a smoker. Will you allow smoking in your home? Will you take their word that they'll step outside when they want to smoke? Remember, this is just one habit you may need to deal with when it comes to tenants.

5. How much will you charge for your property?
Ok, you've carefully considered your decision and you're ready to become a landlord. Now what? You'll need to set a reasonable price for renting out your property. Do your research here to make sure you're not pricing your property out of the market—and that you're not offering your home for less rent than you deserve. After all, being a landlord is a lot of responsibility. Compensate yourself appropriately!