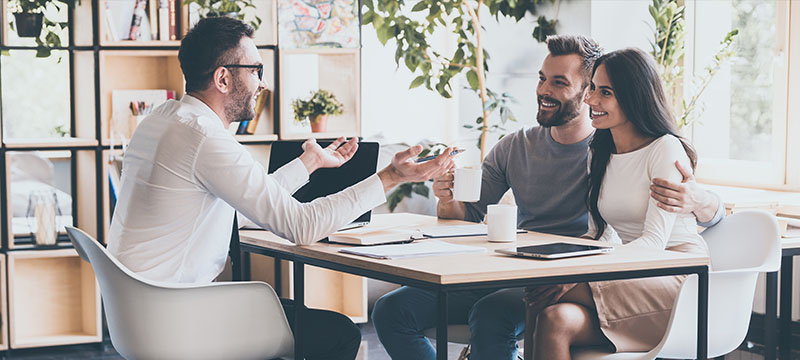 Tackling Roles: What Real Estate Agents Do for Buyers & Sellers
In the spirit of the fall football season, today we're taking a few pages out of the playbooks of two opposing teams that come from the real estate industry. Yep, you guessed it; we're talking about home buyers and home sellers.
Since both teams obviously are working toward different outcomes, their coaches – you know, their real estate agents – must call vastly different plays, right? Before you kick-off your home-buying or home-selling process this fall, huddle up and take a moment to understand what your real estate agent can do for you – whether you're buying or selling a home.
What Real Estate Agents Do for Buyers
Though home buyers certainly are capable of driving by and spotting the home of their dreams or scouring listings online to find a home that may be right, it is a real estate agent's job to find and show available properties that fit a buyer's predetermined list of needs and wants, along with their projected budget. This may take days, weeks or months… depending on available properties and a buyer's preferences.
Once a buyer finds the right home, their real estate agent is there to help them make an offer, negotiating the best price and sales terms. Once that offer is accepted, a real estate agent will continue to represent their buyer's interests, throughout the entire closing process. These services can include everything from connecting buyers with needed service providers like inspectors, home warranty companies and even mortgage lenders, to sitting alongside their clients through the last signatures and exchange of keys during closing.
An extra point to note for buyers? All of these real estate agent services typically come at no cost! In most real estate transactions, sellers are responsible for covering real estate agent commissions.
What Real Estate Agents Do for Sellers
So, what are sellers paying for when they hire a real estate agent to help them sell their homes? A seller's agent kicks off the home sale process right by conducting a comparative market analysis of similar area homes. Doing so helps sellers to set the right price for their homes, a competitive price that will maximize their profits, but sell their home in a most-efficient manner. Once the home price is set, a real estate agent will list the home on the Multiple Listing Service (MLS), a real estate industry system where agents list all available properties and other agents are able to obtain the most up-to-date information on those properties.
Not only will real estate agents list their clients' homes within the MLS, but they'll continue to market those homes on every avenue available, from street signs to social media to fliers, ads and more! Before prospective buyers come flooding through the home, agents will give sellers tips on how to best showcase or stage their homes to make them most appealing.
Real estate agents also are in charge of arranging open houses and other home showings for sellers, plus keeping them in constant communication with how their home sale process is progressing. A seller's real estate agent will help them to negotiate for the best sales price, maximizing their potential profits. And, of course, a seller's real estate agent will be present to guide their client through the entire home closing process. As for those real estate commissions that sellers pay, they're typically worked into a home's selling price, so sellers rarely pay agents out of pocket.
While real estate agents are not calling the same plays for both buyers and sellers, it is obvious that they play an intricate role in both the home-buying and home-selling processes. If you're ready to enter the field as a home buyer or seller, find a real estate agent you can trust to represent your needs.