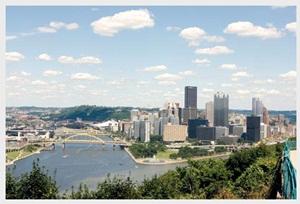 Study says Pittsburgh fully recovered from recession
From: Triblive.com
With our economy tied to education, medicine and energy, Pittsburgh earned another distinction on Friday as one of three major U.S. metropolitan areas experiencing recovery since the 2007-09 recession ended.
The Pittsburgh skyline partly tells the city's economic story, said Mayor Luke Ravenstahl. PNC Financial Services just finished building one skyscraper and started construction on another.
"In my mind, it's already recovered. We employ more people in Pittsburgh than we ever have," Ravenstahl said.
That makes Pittsburgh a member of a small club, said the Brookings Institution. It analyzed employment levels and gross domestic product per capita and deemed Pittsburgh, Knoxville, Tenn., and Dallas in recovery three and a half years after the economic recession ended.
The Washington-based research group said full recovery includes an economy that has "returned to its long-term pre-recession rates of economic growth."
The United States has the most major metropolitan economies of all countries — 76 — Brookings said in its annual report on the 300 largest metropolitan economies worldwide.
"It was still better than last year when the U.S. had no metro recoveries," Brookings associate fellow Emilia Istrate said.
Istrate said the three cities had two features in common: strong local services such as health care, and business and financial services that cater to specific industries."The recession in Pittsburgh was less severe than in the rest of the country, and it's clear that the area has had stronger employment growth than the rest of the country," said Mark Price, labor economist for the Keystone Research Center, Harrisburg.
Price added that the Pittsburgh region also saw strong growth in the labor force in the past year, which is an indication that the area's strong economy "has drawn people there, and faster than in other places."
Douglas Heuck, director the Regional Indicators for Pittsburgh Today, a research affiliate of the University of Pittsburgh, said the Pittsburgh region has enjoyed slowly rising housing prices, a rarity given the nation's housing crisis. He added the region's economy also has been well-supported by its health care, higher education and financial services segments.
"And Marcellus shale drilling has been a shot in the arm, coming during the teeth of the recession,' said Heuck.
Though more people are employed in Pittsburgh than ever before, and the city's population is growing, Ravenstahl cautioned: "There is still much more work to be done."
Pittsburgh has applied for partial release from state oversight of its budget, citing a turnaround in its financial condition. Its yearly operating budget is $470 million.
"While we are extremely excited that the world keeps recognizing our economic successes, we must not view this as another pat on the back but as a challenge to keep improving," Ravenstahl said.
In Knoxville, retailers moving into old downtown buildings, an abundance of freshly planted greenspaces, and a stream of new jobs are signs to Mayor Madeline Rogero that prosperity is blooming in her city.
"We feel very good about how we're coming out of this recession," Rogero said. "We see new interest. We see new development that's occurring. We're optimistic that this recovery is going to continue."
The recession came late to many city budgets. Their primary revenue source — property taxes — took time to fall because of lags in real estate valuations. By the time they dropped, cities were contending with falling sales and income taxes resulting from job losses.
Cities of all sizes still worry about budgets and federal spending cuts.
"Cities are emerging slowly from the Great Recession," said Robert Zahradnik at Pew's American Cities Project, which tracks fiscal conditions and budgets. "In many cities revenues are gradually recovering but there are still some risks out there."
All three cities created long-term stability with local services and the public sector, and growth with business and financial services, said Istrate.
"People always want to know what metros are recovering, what they are doing, so they can replicate it. There is no single industry that can help but there is an industrial structure that can help you grow year to year," she said. "More and more metropolitan areas are looking at the export sector, at foreign investors, at infrastructure."
Business services in Dallas, she said, easily cater to the commodities sector.
Analysts at the firm IHS track employment in U.S. metropolitan areas and found almost all cities in Texas have returned to their pre-recesssion employment peaks, as Dallas did in the last quarter of 2012.
The state was not hit hard by the housing bubble, said IHS economist Steven Frable. Its industry diversity — energy, business services, and trade and transportation — attracts workers.
In 2013 and 2014, IHS expects more than 75 metropolitan areas to regain peak employment, mostly large cities such as New York and Seattle.

Reuters and Trib Total Media staff writer Thomas Olson contributed to this report.
Read More: http://triblive.com/home/3053887-74/pittsburgh-recession-cities-services-metropolitan-recovery-economy-financial-economic-employment#axzz2DzxU0jlm