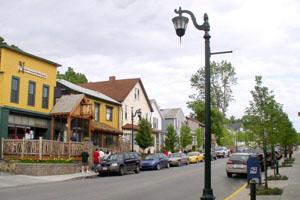 Slippery Rock and Grove City: See You at the Crossroads
What can you find at the crossroads of bustling Interstates 80 and 79? While the obvious answer may not immediately be comfortable community-living, friendly neighbors and, yes, even farmland… that is exactly what you will find in the communities of Slippery Rock and Grove City.
About 50 miles north of Pittsburgh, Slippery Rock and Grove City are separated by just 10 miles and their similarities are just as close. The two communities offer families, retirees and college students a safe, active and inviting atmosphere that's great to visit and perfect to call home.
Originally known for strip mining, Slippery Rock is now largely agricultural and residents are 100% supportive of their Rockies. Slippery Rock University is a major contributor to community business, education and culture.
Similarly, Grove City is historically known as an industrial center and remains the home of General Electric, USIS and the private, conservative Grove City College. Both communities boast recently revitalized downtown areas and many more shopping, dining and recreational options.
In Slippery Rock, home-brewed beers and fine cuisine tempt visitors and keep residents coming back to North Country Brewery, while $.99 breakfast at Camelot Restaurant is even more reason to stay.
Grove City's Premium Outlets offer shopaholics from the U.S. and Canada tax-free shopping at top retailers. Community playgrounds and recreational parks within easy walking-distance make the area simply irresistible for families. The Western Pennsylvania community was also named one of the nation's 10 best places to retire.
To visit Slippery Rock and Grove City is to experience rural paradise nestled against convenient urban access. If you're longing for community-living with access to everything else, not to mention affordable home prices and reasonable tax rates, see what Slippery Rock and Grove City have to offer you.

Search available homes in Slippery Rock and Grove City now.
*Photo courtesy of Visit Butler County.