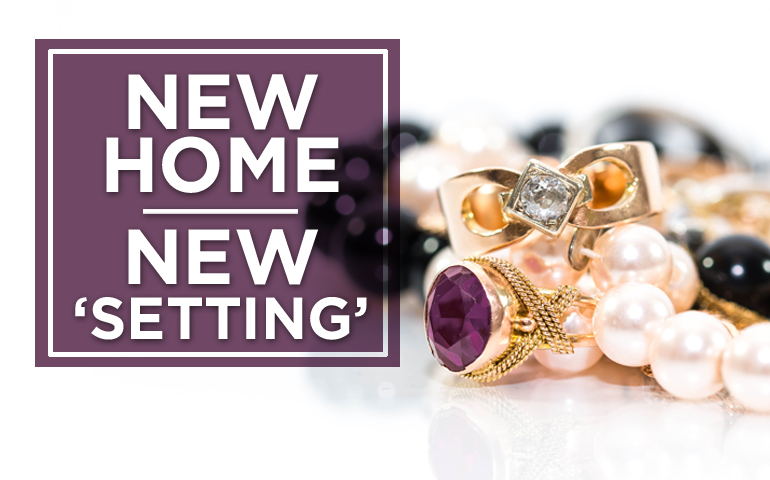 New Home… New "Setting"!
Congratulations! You've just purchased a new home. You signed your name on the dotted line, packed up all your things, hauled them to your new home, unpacked (mostly), and have finally started to settle in. After checking off all those major tasks, you might be starting to think about the smaller details of moving. Such as where the perfect place to hang the family picture is, determining which grocery store is closest, and now you finally have the time to get your watch fixed, that piece of jewelry reset or get your valuables appraised.
Appraisal
When you sit down and review your homeowner's policy, you should think about adding some of your valuables like jewelry onto your list of covered items. Getting expensive pieces of jewelry appraised like your engagement ring or wedding bands is never a bad idea in case of damage or loss. There is a reason it's important to update appraisals, jewelry fluctuates in value! An old appraisal likely is for a lower value than the value in today's market. Insurance companies and appraisers recommend updating jewelry appraisals every two to three years, or when purchasing a new home.
New Home
Maybe now that you are all settled into your new home, an upcoming engagement might be on your mind? If you are thinking about taking that next big life step, make sure you give yourself some time to consider your options. Customized engagement rings take anywhere from a couple of weeks to a couple of months to create, so be sure to start the journey early if you are hoping to get down on your knee and propose soon!
New Setting
Do you have an old family heirloom laying around or a special anniversary coming up? A great gift idea for your significant other would be to get their engagement ring reset or create a necklace from an old piece of jewelry! Heirloom jewelry usually has a story behind it that makes it even more special and sentimental. Redesigning a piece that you're not wearing because it's not really your style is a way to let you carry that story from one generation to the next. Vow renewals are another great reason to change a setting or update a piece of jewelry.
Jewelry Maintenance
Are the prongs on your ring loose, watch running slow, or you need a good jewelry cleaning? Now is a great time to take your jewelry in to get cleaned or repaired! An engagement ring that you wear every day at work and home will require greater care than a necklace or pendant that you wear only on special occasions. Jewelry stores also offer other services such as getting your rings sautered together or redipping to make them look new!
All this talk about jewelry on a real estate blog... well maybe you haven't heard about our New Neighbor Program? Berkshire Hathaway HomeServices The Preferred Realty offers its clients exclusive discounts from area vendors, including Orr's Jewelers, the perfect place to take action on these suggestions. Want to know more? Ask your real estate agent for more information!
Berkshire Hathaway HomeServices does not endorse any of the products or vendors referenced on this material. Any mention of vendors, products, or services are for informational purposes only.