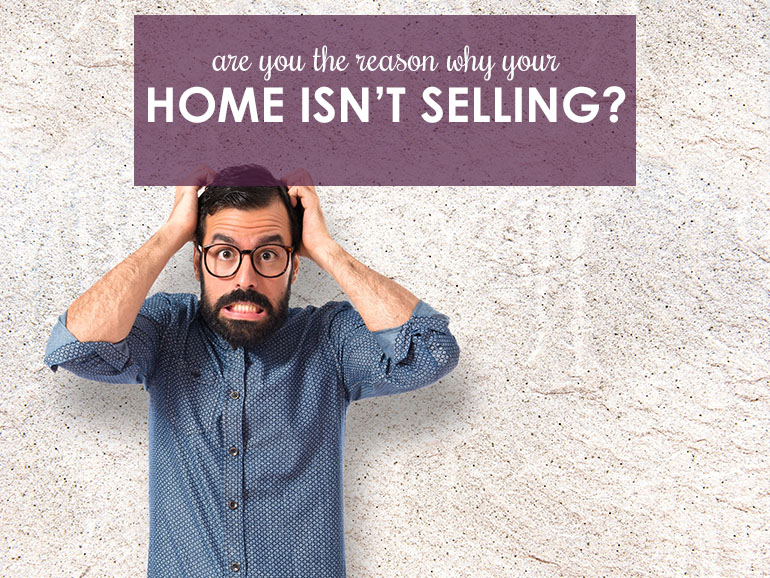 If It's Not Your Realtor, Why Can't You Sell Your Home?
"It's not you, it's me." This may be a line that no one wants to hear when they're in a relationship. But, what if you're in a home-selling relationship and you hear just the opposite? "It's not your realtor, it's you!" Is it possible that you could be destroying the sale of your own home?
It may be a hard truth to swallow, but sometimes when sellers refuse to listen to the advice of their professional real estate agents, they can do some major damage to their potential home sale.
If you're in the process of selling your home, we want to make sure that you never have to hear those words. So, we'll give you a little advice up front. Here are five common reasons that your home may not be selling, despite your real estate agent's hardest efforts:
1. You refuse to drop the price.
If your real estate agent has suggested dropping the price of your home to attract more potential buyers, you have every right to question their advice. However, if they're able to show you comparable homes at lower prices that already have sold, it may be time for you to listen and lower your home sale price. You may not have to drop it much to be in the right buyer's price range.
2. You deny or cancel showings.
Are you feeling like buyers are asking to see your home at the most inconvenient times, so you simply don't let them? You could be majorly hurting your chances at selling your home. When you're trying to sell, you've got to accommodate potential buyers' schedules. If that means you have to let your pets spend some extra time with a loving family member or friend or you need to take a walk around the neighborhood at night, be flexible!
3. You don't clean before showings.
When you're planning to list your home, it is common to declutter and deeply clean. But, that process cannot stop with the initial cleaning. You've got to keep your home in tip-top shape the entire time it is on the market. This means making sure to keep your counters wiped down, your laundry put away and your beds made each day. You never know when the right buyer may come along, so you've got to do your best to impress every buyer that tours through.
4. You have no curb appeal.
Just like the inside of your home needs to remain spotless throughout your home sale, there should be no blade of grass untrimmed outside while your home is on the market, either. Your curb appeal is the first thing that buyers see when they approach your home. It also can be the first thing that turns them away before they even step inside. Draw buyers in by keeping up with your lawn mowing and maintenance!
5. You won't allow buyers to see themselves living in your home.
Before your home sale process began, you probably were advised take down a few personal photos, hide pet toys and tone down loud accent colors. This is because it can be hard for buyers to envision themselves in your home if all they see is you! Instead, you can help buyers to personalize your home by applying a neutral color palette and accenting with a few mirrors.
Make sure you never hear those dreaded words, "It's not your realtor, it's you!" Instead, take our advice and contact a trusted real estate agent who will be happy to work with you throughout your entire home sale process!