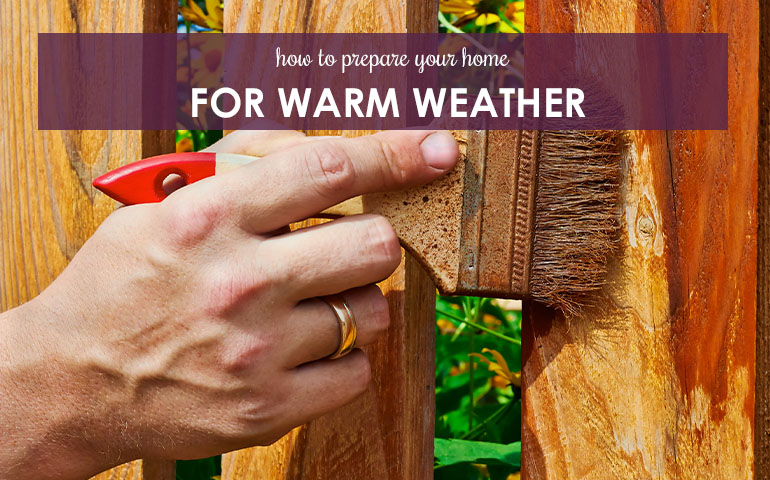 How to Prepare Your Home For Warm Weather
It's safe to say that most of the cold days are behind us as we are slowly approaching beautiful spring weather. Now is a great time to do some prep work to prepare for the upcoming season, so you can fully enjoy the beautiful months to come!
Check Your Air Conditioning
You will want to make sure that your air conditioner is working before we start getting those 80 degree days. Start by changing the filter-- a clogged or dirty filter makes your unit run longer, ultimately costing you more money and potentially causing breathing issues. Then you will want to test to make sure your unit is working properly. Turn on the air conditioner and make sure it's ready to do its job. If you don't feel the cold air flowing after a few minutes, check your circuit breakers. If everything seems to be in order and you have no air conditioning, it's best to call an HVAC service to check things out.
Protect Your Windows
Now that your air conditioner is working properly you will want to make sure you keep all that cool air inside and keep electricity costs down. Windows are the easiest way for heat to make its way inside your home, so make sure to strategically plant shady shrubs and trees, or set up awnings or screens to serve as an extra layer of protection. It's an afternoon of hard work, but you'll thank yourself in the long run. You could also install weatherstripping on your windows and the bottom of your doors to make sure any extra hot air doesn't sneak in.
Pull Out Patio Furniture
If you enjoy sitting outside and enjoying the spring weather, there is no better time to get your outdoor patio set up! Pull out the lawn and patio furniture, wash them off and check to make sure everything is safe and working right.
Get the grill ready by checking for clogs in burners and give the cooking grate a good wipe down with some oil. Don't forget to check and see if you have gas in the tank, too. If you are using a charcoal grill it's a good idea to stock up on charcoal so you don't run out at an inconvenient time!
Get Your Yard Ready
Now that there's a slight break in the cold weather you'll want to prepare and clean up your yard from the winter season. Give your yard a walkthrough and clean up any fallen limbs or debris and make sure there are no broken limbs in your trees. You wouldn't want a heavy wind storm to come through and knock branches onto your home or cars. This is also a great time to make sure your sprinkler system is working properly if you have one and pick any weeds that have grown in your garden. You will also want to start up your lawnmower and make sure it is in good working order.
Now that barbeques and pool days are in sight, don't forget to prepare your home for a warm season. From flipping on the A/C to stocking up on charcoal for grilling season, there are plenty of ways to fill up some free time and prepare your home for the outdoor season!