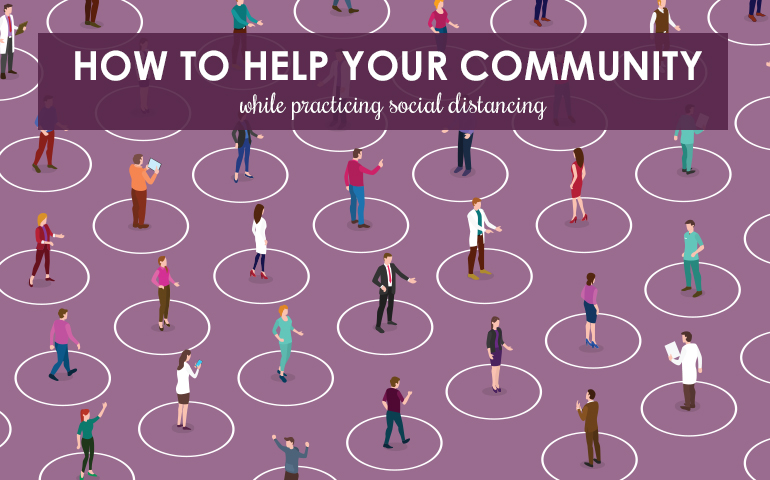 How to Help Your Community While Practicing Social Distancing
Practicing social distancing to help flatten the curve and protect yourself and others from the coronavirus does not mean you can't help others during this time. Community now is more important than ever and sure, it is boring and unnerving to be stuck at home, but there are plenty of ways you can support your community with minimal contact or without even leaving your home!
Donate Food To A Local Food Bank
During this time, food banks are in need of donations. When donating to your local food bank, consider starting with your wallet instead of your pantry. Donating money not only gives food banks flexibility over which supplies — including fresh foods and paper products — to offer but also lets them decide when to refresh their stocks. This is an easy way to help out your local food bank without leaving your house and having to venture to the grocery store.
Offer Assistance to At-Risk Neighbors
If you're in a lower-risk group, reach out to your higher-risk neighbors and community members and ask them how you can help, whether by picking up prescriptions and groceries or offering other assistance. Even if they're already fully stocked, simply sharing your plans with one another can be helpful, particularly as people spend more time at home instead of out. Make sure that you are still following social distancing rules when you do leave your home.
Donate Blood
Blood Banks still need donations during this time. If you are willing and able to donate blood, consider getting out of your house and heading to your local blood bank. The Red Cross has taken extra precautions for individuals donating blood during this time. Only one person is allowed in the waiting room at a time and extra sanitizing measures have been implemented. You can find local drives and more information on how to donate through the Red Cross.
Buy Gift Cards To Support Local Businesses
Buying gift cards to local businesses you want to support is another way to help. If there's a locally owned restaurant that you love and you want to make sure it survives, buy a gift card from that restaurant or boutique to use when the shelter-in-place is lifted. You can also order takeout from local restaurants during this time. Make sure you give a good tip for all those working hard during this time!
Support for Essential Employees
Supporting essential employees right now is also important in battling COVID-19. If you have loved ones who are doctors, nurses or anyone in the medical field, make sure you show them support by being there for them during this hard time. If you have any gloves or masks laying around your house, consider donating them to local doctor's offices or hospitals to help with the shortage of supplies. Some people who love to sew have even been making homemade masks for medical professionals!
Gather Items For Goodwill
While you are home with not enough to do, start pulling together excess household items and clothing to give away later to shelters or thrift shops. Clean out your kitchen pantry and pull out nonperishables to give items to your food bank or food pantry, or even gather items for a future yard sale to benefit a charity or organization you like.
This is a trying time for everyone, but with the help and support from the community, we will get through this together. If you have any suggestions for other ways to help out, please share them with us on social media!