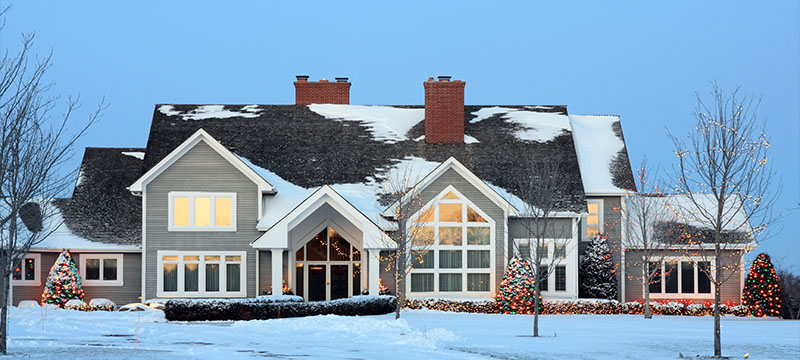 Home Shopping this Holiday Season? Why a New Home Should Be on Your Wish List!
'Tis the season to be… buying a home?! While those may not be the exact lyrics to a popular holiday tune, if you've been considering a home purchase, you could be fa-la-la-la-la-la-la-la-losing out if you don't consider doing so during the holiday season!
You may have heard that there are fewer homes on the market around the holidays than at other times of the year; but, have you considered what that could mean for buyers? The homes listed during the winter holidays are listed by sellers who all likely share something in common… they're motivated to sell! Buying a home during this festive time of year could mean that you may strike a better-than-Black-Friday deal on a home you'll love!
Here are five reasons we think a holiday home purchase belongs on Santa's nice list this year:
Less Competition for Buyers: It's true; moving during the winter and mid-school year may not be the most popular times to do so. But, that's not a negative aspect for those buyers who are ready to make a purchase. In fact, fewer buyers on the market means there is less competition out there. And, that could be read as a better bargaining chip for those who are ready to buy.

Lower Interest Rates: Though buyers may find less competition when they are ready to make an offer on a home that they're interested in, they may find more competition in one aspect of their home search. Because there are fewer buyers out there during this time of year, fewer people are seeking mortgages right now; so, lenders may be willing to offer lower interest rates to compete for the buyers that are out there. And, when banks compete, buyers win!

Year-End Tax Breaks: The holidays signal the end of the year and who wouldn't like a few extra deductions toward the end of tax season? Closing on a new home before the end of the year is a great way to get some of those extra tax breaks. Buyers are able to deduct some of the costs associated with purchasing their new home, including mortgage interest, property taxes and other costs. If you're planning to buy a home by the end of the year, talk with your accountant about how it could affect your year-end financial picture.

Faster Closing Processes: Possibly because holiday-season sellers are more motivated to sell; possibly for those year-end tax breaks; possibly because both parties have got a lot of holiday happenings… for a multitude of reasons, the closing process for a home sale that occurs during the holiday season just seems to move faster than at other times of the year. Hmm… a problem-free, fast-moving closing process sounds like an extra holiday gift for buyers and sellers, alike!

Celebrating the Season in a New Home: If for no other reason at all, how awesome would it be to celebrate the holidays and ring in the new year in a new home?! A buyer who makes their purchase before the end of the year can knock out that housewarming party and holiday hosting at once! Plus, they may even be able to recruit some in-for-the-holidays family members for extra moving help in the process!
Though it's pretty much indisputable that festively-decorated homes look their best during the holiday season and these five great points may be hard to argue as well, winter weather still may be hindering your decision to do some house hunting during the holidays. Certainly, you should be cautious of wintry weather conditions and make sure you thoroughly inspect any property you choose to make sure that all that glistening snow isn't covering any glaring issues; but, the bottom line is that a great deal on a holiday home purchase could make you feel that holly, jolly spirit long into the new year.
If you'd like help looking for your dream home this holiday season, contact a trusted Berkshire Hathaway HomeServices The Preferred Realty agent today!