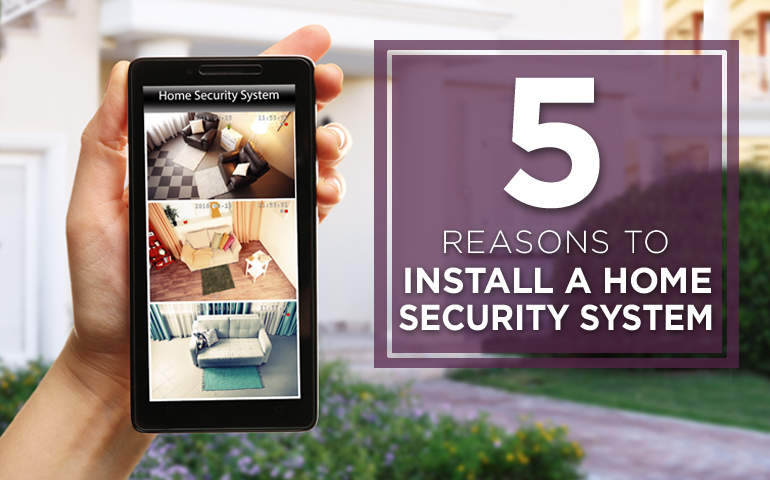 Five Reasons to Install a Home Security System
Have you been going back and forth about installing a home security system? Initially, it can be a large investment, but giving you and your family the peace of mind and additional home safety will pay off in the long run.
Protect your Family
The biggest reason a homeowner should consider installing a home security system is that it offers protection to family members from intruders. Home security systems have been linked to an overall lower rate of crime and will make an intruder think twice before entering your home. Having a security system in place often provides family members with enough warning to get to a safe location outside the home while the alarm system dispatches local authorities.
Protect your Valuables
This is the benefit most people immediately think of when purchasing a home security system. We likely all know someone who has lost electronics, jewelry, or other high-value items due to a home invasion. The tragedy is compounded when the item is an irreplaceable family heirloom. A home security system has an alarm that scares off many would-be intruders and can notify the local authorities if someone does attempt a break-in.
Protect Your Home from Fires and Carbon Monoxide
Most home security systems now have fire and carbon monoxide detection. Carbon Monoxide is a colorless, odorless gas that can be deadly if it is not taken care of in time. A home security system will detect the gas, alert you, and allow you to safely exit your home in time. Heat detectors can also be added to a home security system. These detectors can determine if a fire is building in a specific area of the home, and provide advanced notice of even the smallest of changes in heat.
Save on Homeowners Insurance
As a homeowner, you could see your insurance premiums drop up to about 15 to 20 percent if you install a comprehensive home security system, according to the Insurance Information Institute. Not only can you reduce your insurance costs, but you can also save money on buying these security systems if you ask about discounts from your insurance company, security company or even their real estate agent.
Have Someone Else Watch Over Your Home
Another great benefit of a home security system is having someone else watch over your home when you are away or in case of an emergency. Security companies have a team trained specifically to watch the homes in case of an emergency.
Overall, the main reason homeowners need a home security system is simple — it provides you with the peace of mind in knowing that your family and your home are secure, whether you are at home or on the road. When you are at home you can fully relax knowing that you are safeguarded from theft, vandalism, fire, and other threats. When you are traveling you know that your alarm system will alert the authorities should any problem occur at your home.
Have you heard about our New Neighbor Program? Berkshire Hathaway HomeServices Stouffer Realty Services can offer its clients exclusive discounts from area vendors, including Vector Security, through our New Neighbor Program. Want to know more? Ask your real estate agent for more information!
Berkshire Hathaway HomeServices does not endorse any of the products or vendors referenced on this material. Any mention of vendors, products, or services is for informational purposes only.