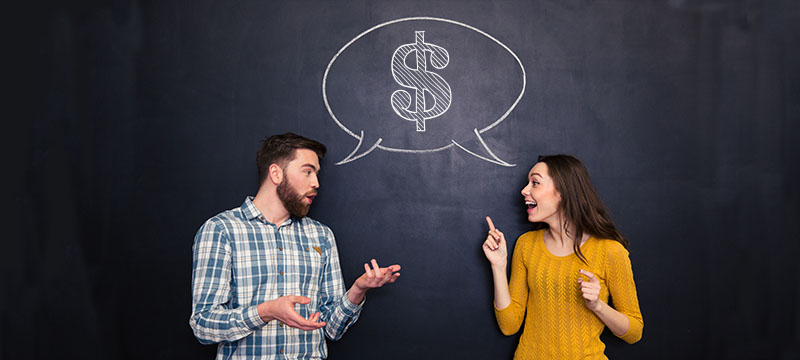 Money Talks! Four Tips for Couples in Financial Conversations
Hopes, dreams, goals… you talk to your spouse or significant other about everything, right? So, why does it seem so difficult to get into a discussion about your finances? If one of your #relationshipgoals is to be a little bit more of a money-savvy couple, there are a few ways to get that financial conversation started at home.
Here are four ways to set up financial talks with your spouse:
1. Set Ground Rules: Before you and your partner decide to dive right into a money discussion, set a few rules of fair financial play. Typically, when you're talking about spending and saving money, it doesn't take long for the blame game to set in. Avoid potential arguments with your spouse; before you even start to talk about money, agree to traits like listening more and blaming less!
2. Set One Major Mutual Financial Goal: Maybe you and your spouse would like to buy a new house. Maybe you and your spouse would like to be debt-free. Maybe you and your spouse are planning for retirement. Whatever you're hoping for in your financial future, do it together! It is much easier to talk about your finances when both you and your spouse are working toward one overall goal – together! Not only is it easier to talk about those big money goals, but it also is easier to reach them!
3. Set Achievable Short-term Goals, Too: Let's face it; buying a home, paying off debts and saving for retirement are great long-term goals. But, because they are such lofty goals, they can be a bit harder for couples to reach. So, agree with your partner to start small.
If your goal is to buy a home, agree to work on your credit scores or build funds for a down payment. If your goal is to pay off debts, start chipping away at one particular credit card together. If you want to save for retirement, start contributing the same percentage of your respective salaries toward your post-career goals. Once you begin to reach the short-term goals, the long-term goals don't seem so lofty.
4. Set Up Another Financial Conversation: And another one. And another one. Once you and your spouse have one productive conversation about money, make it an on-going thing. By making money talks a more familiar thing at home, you and your spouse are less likely to feel anxiety when it comes time to talk about your finances.
Finally, talking is just the first step! After you and your spouse are more comfortable discussing your spending and saving, you'll be on the road to more healthy money habits and, likely, a healthier relationship, too! So, start setting up those financial talks with your spouse today!
This post is sponsored by PA Preferred Mortgage:
Pennsylvania Preferred Mortgage is a full service mortgage banker and is a member of the Prosperity Home Mortgage, LLC family. Specializing in residential and refinance loans, Pennsylvania Preferred Mortgage offers a wide range of mortgage products, including fixed and adjustable rate mortgages, jumbo loans, Federal Housing Administration (FHA) and Veterans Affairs (VA) loans, and renovation financing. Learn more at www.papreferredmortgage.com.