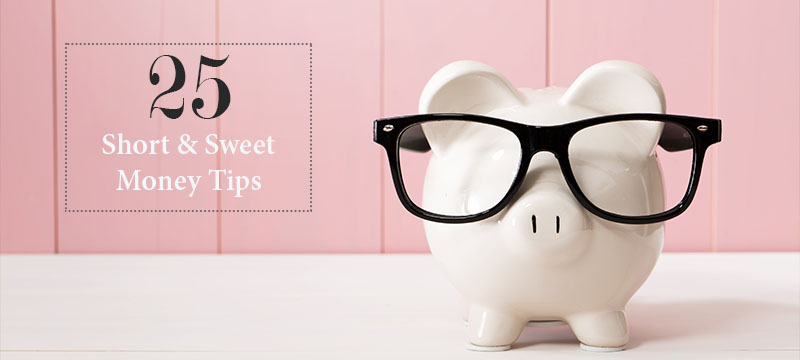 Falling Off the Financial Wagon? 25 Tips to Help You Get Back on Board!
Now that the first quarter of the year and tax day is behind us, it is time to take a look at those financial resolutions we set forth for the year. But, instead of harping on what we have or have not accomplished with our finances at this point in the year, why not look at the beginning of the second quarter as an opportunity to start over?
That's right; leave the financial resolutions you failed to commit to in the past and pursue a few new ones now. There is never a bad time to become more financially savvy, so we're giving you 25 short-but-sweet tips that may help you get yourself financially-together this quarter:
1. Make a budget. Yes, you may have done this at the beginning of the year. But…
2. Stick to it this time. You can do this, really!
3. Track what you're spending. Seeing really is believing!
4. Note what you're saving. Recognizing your savings is a good thing!
5. Get familiar with your credit score. Say "goodbye" to the fear of the unknown.
6. Pay your bills on time. This will help boost that unknown score.
7. Pay more than the minimum payment on your bills. Again, boost that credit score.
8. Pay one bill completely off. This is another feeling you'll want to duplicate.
9. Stop impulse buying. Resist the urge.
10. Start using coupons. You're probably overpaying on everything if you're not doing this.
11. Only use credit when you know you can pay it off each month. Now, this can be tricky.
12. Enroll in your company's 401K. You mean, you're not already enrolled?!
13. Spend less money than you make in a month's time. No brainer here, right?!
14. Cut out your morning coffee run. Even once a week will make a difference.
15. Limit your lunches out/happy hours. Again, even once a week.
16. Review and adjust your insurance plans. Do you even know what you're paying for?
17. Stop worrying about what your neighbors are doing. And building. And buying.
18. Properly maintain your car. It may not sound like financial advice, but it can help you avoid costly repairs.
19. Start building an emergency fund. It's timeless advice and it's important.
20. Don't use your emergency fund as a travel/shopping fund. It's called "emergency" for good reason.
21. Make saving money a family affair. When everyone is on board, it is a lot easier to accomplish!
22. Find a financial mentor. Whether it's your parents or a friend, take some advice!
23. Learn about investment options and begin to invest. Now, you're building a financial future!
24. Set short-term, attainable financial goals. Start small. Aim to improve your financial situation on a monthly basis.
25. Reward good financial behavior every once in a while. Just don't make this the only financial tip you choose to follow!
If you started off 2016 with a few poorly-made financial decisions, all is not lost! Pick one, pick five or go big and go after all of these financial tips! When you do, you'll see your financial picture look so much better that you'll surely want to snap and share a second-quarter financial selfie!
This post is sponsored by PA Preferred Mortgage:
Pennsylvania Preferred Mortgage is a full service mortgage banker and is a member of the Prosperity Home Mortgage, LLC family. Specializing in residential and refinance loans, Pennsylvania Preferred Mortgage offers a wide range of mortgage products, including fixed and adjustable rate mortgages, jumbo loans, Federal Housing Administration (FHA) and Veterans Affairs (VA) loans, and renovation financing. Learn more at www.papreferredmortgage.com.