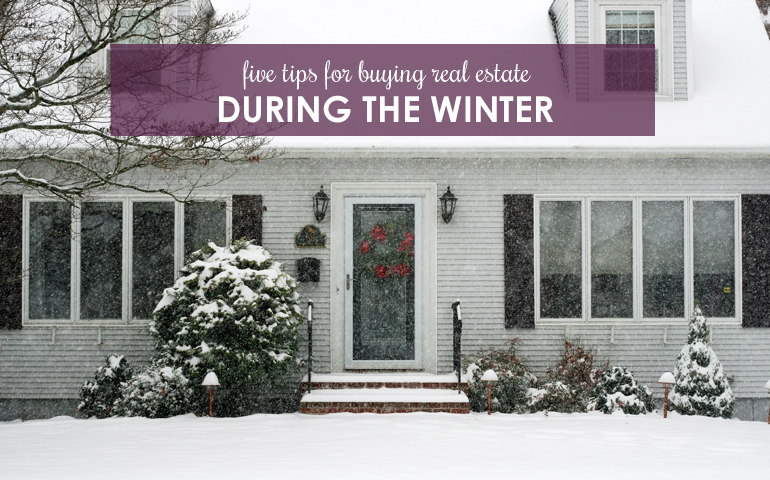 Five Tips for Buying Real Estate in Winter
Winter is not only known for cold when it comes to the weather. Most home buyers and sellers would agree that there are hotter times for the real estate market too. The mere thoughts of snow and ice could make some buyers and sellers freeze in their tracks before they want to navigate the winter market.

We've recently shared some tips to help sellers enhance home appeal in winter. But what can buyers do to ensure they're ready to realize their real estate dreams in colder months?

Here are five tips to guide buyers to a new home this winter:

1. Don't be discouraged by fewer homes on the market.
It's true. There typically are more homes for sale during warmer seasons like spring and summer. But that does not mean a buyer cannot find the right home during winter. Inventory could be lower, but sellers have plenty of reasons to list during winter. So, the right home for a buyer absolutely could be available – even during the coldest season of the year.

2. Expect less competition during the home-buying process.
Just as there might be fewer homes for sale during winter, there is also typically fewer buyers looking for new homes. So, if you're a serious buyer, winter might be the perfect time for you to find the right home. What could be better than not having to face a bidding war on the home that you want? We can't think of many things when it comes to real estate!

3. Enjoy working with more motivated sellers.
When a seller lists a home in winter, it is often because they need to do so. Whether it is because of relocating for career purposes or to find warmer weather, sellers who list their homes in winter want to sell – and often in a hurry! For buyers, this could mean easier negotiations and a speedy closing process – two big wins when it comes to buying a home.

4. Take advantage of lower listing prices.
Not only do buyers usually find more motivated sellers during winter, but they also can find lower prices on the types of homes they're most interested in. Because competition is less during winter, home supply often exceeds buyer demand. For interested buyers, this can mean finding a great bargain on a home that would be a higher price during warmer months.
5. Receive more of your agent's attention.
A good real estate professional will give you 100% of their efforts during any time of the year. But for reasons we've already listed – fewer homes on the market and fewer buyers browsing for new homes – many real estate professionals simply have more time to devote to the buyers and sellers they work with during colder months. If now is your time to buy a home, take advantage of any extra time your agent might have. Let them help you navigate through the winter home-buying season until you find and close on the home that's right for you.

Let's recap, buyers. Should cold weather or cooler buying conditions keep you out of the real estate market this winter? No way! Instead of looking at this frigid season as a reason to freeze in your tracks when it comes to buying a home, warm up to buying a home in winter. Contact us to get started today.