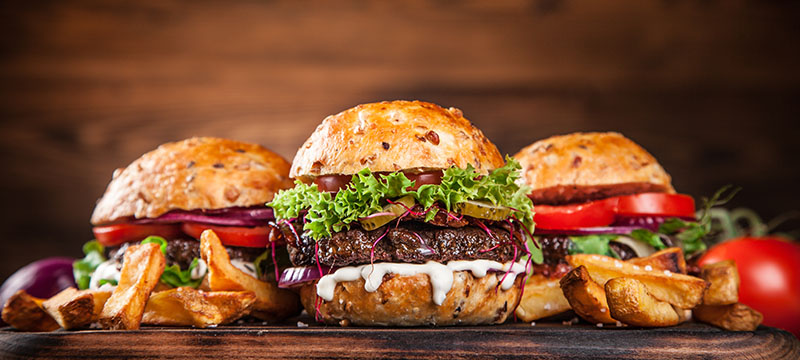 Best Burgers in Pittsburgh
On September 18 the world celebrated National Burger Day, but we know that one day isn't nearly long enough to get our burger fill!
That's why we put together a list of our favorite burgers in Pittsburgh.
Let's get started...
Burgatory
Heavenly burgers on earth! With seven locations in the Pittsburgh area, Burgatory is one of the best local places to score a great bite. We recommend the Morty's Steakhouse – a peppercorn crusted burger with horseradish cheddar, haystack onions and Cabernet sauce – and the Elk Gone Wild – a grass fed elk burger with smoked gouda, caramelized onion marmalade and bacon jam.
Winghart's
Winghart's philosophy is simple… use fresh, quality ingredients to create a new spin on "bar" food. The results are amazing! We recommend Harper's Burger which combines house made bordelaise, boursin cheese, fried onion straws and bacon topped with an over easy egg. Don't forget to add a side of homemade mac-n-cheese or white truffle fries to your order!
Bubba's Gourmet Burghers
Okay, this one isn't going to be friendly on your waistline but your taste buds are sure to love it. Bubba's Burghers' signature Bubba Burgher features a gourmet burger topped with bacon and copious amounts shredded cheddar. Sound too simple? Then, check out the KCCO Burgher – topped with lettuce, tomato, sautéed onions, portabella mushrooms, pickles, pulled pork, a huge ginormous onion ring, provolone, American and Pepper Jack cheese. Oh boy!
Tessaro's
Tessaro's in Bloomfield is known for its giant burgers that are cooked on a hardwood grill. We like the traditional cheeseburger with cheddar, lettuce, tomato, onion and mayo.
BRBG
BRGB's variety of handcrafted burgers will totally satisfy your craving! We drool over the Smokehouse Bison – a bison burger pilled with bbq-chipotle aioli, smoked cheddar, mushrooms, onion straws and jalapenos. If you're more of a veggie fan, be sure to check out the Sante Fe Hippe – a black bean, roasted corn and falfel patty topped with tomato, guacamole, lettuce, pepper jack cheese, cilantro and lime creme fraiche.
Benjamin's
Created with a custom blend of sirloin, brisket and short rib and ground fresh daily, the burgers at Benjamin's are a must-have! Our favorite is the Kentucky Bourbon which features Applewood smoked bacon, bourbon sweet onions and provolone cheese. Plus, we add on a side of Bejamin's steak sauce!
Industry Public House
Lawrenceville's Industry Public House is a local hot spot for gourmet burgers and some pretty amazing drinks! While it's pretty hard to choose a favorite here, we absolutely love the Worker Burger. It's topped with goat cheese, caramelized onion, arugula, wild mushroom and herb aioli. Don't forgot to add a side of their Brussel sprouts with bacon and gorgonzola!
Fat Heads
A South Side staple! Fat Heads has great brews and even better burgers! We typically order the Jonesburger – eight ounces of locally ground chuck/short rib blend topped with melted American cheese, beer bacon jam, habanero hop pickles, arrogant onion rings and chipotle ketchup.
Social at Bakery Square
Social at Bakery Square serves up some pretty tasty grub! In fact, they just may have the one of the best veggie burgers around! We also enjoy their salmon burger with dill mayo.
Meat & Potatoes
One of Pittsburgh's most popular gastropubs is also home to one of the best burgers! You must check out Meat & Potatoes' Pub Burger – pastrami pork belly, horseradish cheddar, fried egg, a special sauce all on a housemade bun.
What your favorite burger in the 'burgh? Let us know in the comments below.