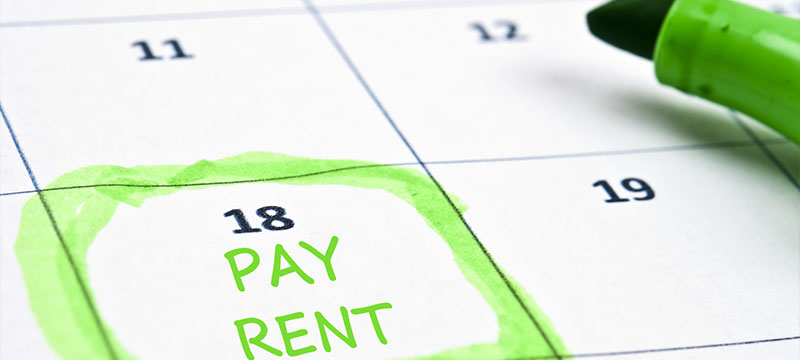 Are You Ready to Rent? A Real Breakdown of Rental Costs
Just a few weeks ago, we reached out to help recent college graduates determine a few ways that they could start saving for their first big home purchase. Of course, whether home ownership is a short-term or long-term goal, renting a home or apartment first may be an immediate necessity for many.
From a down payment to closing costs and not even mentioning monthly mortgage payments, it can be easy to realize the various costs that are associated with home ownership; but, when it comes to renting, the associated fees can be a bit unclear. So, today, we're breaking down a few of the absolutely certain and even just some probable costs that renters face:
The Application Fee
Not every landlord may require prospective renters to pay a fee when they apply, but it is a possibility. Typical application fees may be only $25-30 and they may help a landlord to cover their own costs, like running a background or credit check on a rental applicant. However, renters should keep in mind that fees for a background or credit check may come separately. Some landlords may simply require applicants to pay an application fee as a way to determine how serious they really are about an available property.
The Deposits
Once a prospective renter gets past the application fee and has been approved for a rental property, it will be time to put down a security deposit. This fee is usually at least as much as the cost of one month's rent and sometimes it can be even higher. It is paid to a landlord before moving and is often refunded at the termination of a lease, as long as the rental property has been properly cared for. If there are damages, a landlord may keep all or some of a renter's security deposit.
Nearly every rental out there comes with a security deposit; but, if you've got pets, most rental properties also come with a pet deposit fee. While a security deposit covers normal wear and tear in a home, a pet deposit covers that little extra wear and tear that Fido and Fluffy can leave behind.
Utility Fees
Yes, a renter may be able to afford an apartment's monthly rental fee, but it is important to find out what other costs are involved with a property before signing a lease. Standard utility costs are unavoidable and can add a considerable amount on to the cost of renting. When it comes to utilities, you've got to consider the costs of electricity, gas, water, trash removal, cable and internet. Some landlords may cover a fee like trash removal, but some may not. In any case, it is always best to ask about utilities before committing to a lease agreement.
Another "utility" fee that is a necessity when it comes to renting is insurance. A renter should never think that their personal items are covered under their landlord's homeowner's insurance policy. In case of flood, fire or theft, having a rental insurance policy is a must.
Moving Expenses
Once a renter has paid all necessary application fees, plus the security deposit, the first month's rent and decided that utility fees will be manageable, the fun part of renting begins, right? Time to move in! With any move, fees are to be expected. A renter may or may not need to hire a moving service or at least rent a moving truck. On top of that fee, there may be those smaller costs like purchasing moving boxes, packing paper and tape.
Move-in Necessities
The costs of moving in to a new rental do not end once you arrive at the doorstep. Getting into any new place requires essential supplies like toilet paper, dish detergent, extra light bulbs and other cleaners. Renting a new place also requires that first trip to the grocery store, which can be costly. Though you typically don't need to buy every condiment in your kitchen on a weekly basis, you've got to give yourself a good start when you first move in. Renters should plan for their first few grocery store bills to be a bit higher than the norm.
Move-in Niceties
Many renters aim to make their temporary apartments or homes feel more like their own. So, it only makes sense that if the rental unit you select needs a little love when you move in, it will cost you! Need a few new furniture pieces? Be prepared for an immediate upfront expense, unless you happen to be renting a furnished apartment or home.
Sure, renting an apartment or home may not be as much of a long-term commitment as buying a house; but, there are unavoidable fees involved in both processes. Whether home ownership is your long-term goal or just living with your friends in the city is more your style, it is a good idea to know what costs are associated with renting. While our list is a good start, it is always best to get a complete cost estimate from a landlord before signing a lease.
If you are ready to find a rental that's right for you, contact an experienced Berkshire Hathaway HomeServices The Preferred Realty agent for help today.