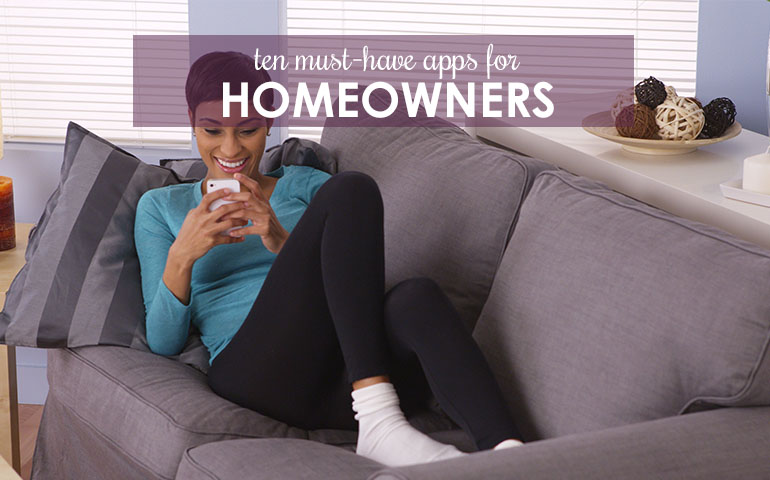 Top 10 Must Have Apps for Homeowners
Whether you're still looking at homes for sale or you've just moved into a brand new home, we've found a few smartphone/tablet apps that you must have. These apps will help you with everything from decorating your home to discovering your new neighborhood to budgeting your next home remodeling project to even paying your mortgage.
1. iHandy Level – No matter if you're hanging up a valuable art piece, a picture frame or a shelf, this handy level will help make sure it's straight.
2. ColorSmart by BEHR – Smokestack Grey or Pinecone Green? Discover which paint color would look best in a room without making a single stroke. This app allows you to take a picture of the room, choose your paint, and then preview what the room would look like in the hue(s) you've chosen.
3. Photo Measures – Drop that ruler and pencil! With this app, you simply take an image of a room, then write in all its measurements so you never have to guess how much paint you need or what size curtains to buy.
4. AroundMe – This app is perfect for homeowners who are new to the area. AroundMe finds the closest restaurants, bars, shopping centers, coffee shops, banks, hospitals, movie theaters, pharmacies, grocery stores, gas stations and more.
5. Sum+It Up Billing Buddy – Planning a remodeling project? This app lets you know exactly how much the project will cost – from hiring a contractor to buying the necessary materials.
6. HomeSavvy – Home maintenance is an important, yet often forgetful thing to do. This app lets you set a home maintenance plan, then sends you alerts each time a task needs to be completed, such as changing the batteries in your smoke alarms, cleaning the gutters, fertilizing the lawn or even getting an oil change on your car. It also includes a directory of local businesses with customer ratings for each task that needs completed.
7. Remodelista – Get the inspiration you need to decorate every room in your home! This app provides you with expert advice, trendy DYIs and stylish furniture and décor.
8. Billminder – Never pay a late fee again! This app allows you to organize your mortgage, utilities, cable and all other bills by their due dates, then it sends you reminders when their due dates are close. You can even set up their secure AutoPay option that will automatically pay your bill on its due date.
9. My Home Scr.APP.book – Although we don't like to think about it, disasters can happen. This app lets you take pictures, write descriptions, and add bar codes of your possessions and organizes them by which room they are in. This will come in handy for determining how much insurance you need and/or filing a claim if you ever need to.

10. iScape – Dreaming of a fresh, flower-filled front yard? This app lets you take a picture of your current yard, then select your improvements, such as fresh grass, mulch, flowers, trees and décor. Click on "save" and you will see your boring lawn transform into an outdoor oasis.