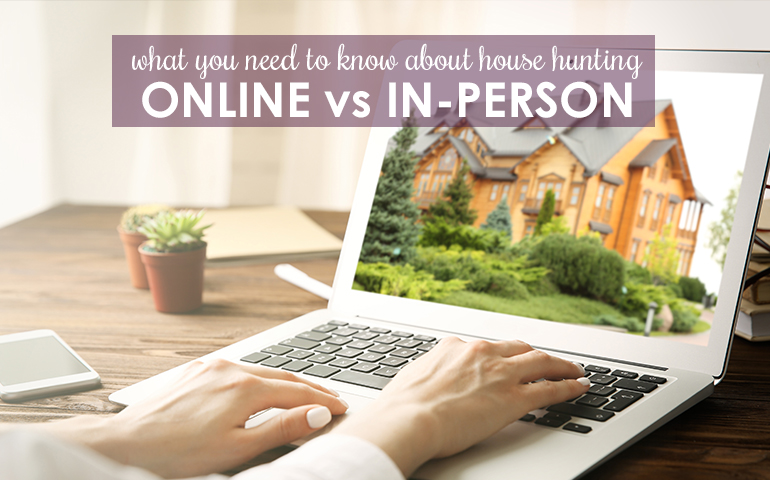 Online Vs. In-Person House Hunting: 10 Things You Must See in a Home
These days, online retailers like Amazon have drastically changed the way we shop for everything from pens and pencils to pants and pantry items. Have online conveniences like hundreds of customer reviews and two-day shipping spoiled us so much that we now expect to only rely on online listings when it comes to shopping for a new home?
No way! Well, not at least when it comes to some of a home's major systems and features. When you're house hunting, online photos and listings are a great place to start, but they simply do not replace what your senses can see, hear—and sometimes smell—in a prospective home.
Here are 10 things you need to see in person when you're searching for a home:
1. Curb Appeal
As we've mentioned, online listing photos are great to give you a first impression of a home. But, seeing really is believing when it comes to curb appeal—no matter what time of year it is. In any season, you can get a good look at how properly maintained a home may be by driving by at various times of the day.
2. Neighborhood
Much like curb appeal, you can tell a lot about a neighborhood by driving through at different times of the day. Online listings will not tell you much about the people in a neighborhood, but chatting with them when you're at a showing could reveal a lot.
3. Cleanliness
It may be easy to present a clean home in photos. However, until you deeply scour a home, you will not know how clean (or not so clean) it really is. Visit a home to see if it has been properly maintained or if it is in need of some major cleaning.
4. Plumbing
A home's plumbing system is typically built to last, so many prospective buyers may not even consider it—even when touring through a home. But, it pays to confirm the system is up to date. This type of repair is something a seller may be able to fix before you agree to close on a home. And, you'll only know that you have an issue if you see the home in person.
5. Heating and Cooling
A home's heating, ventilation and air conditioning (HVAC) system should last 10 to 15 years, but will a listing tell you how old a home's system is? When it comes to a prospective home's HVAC system, you need to be proactive to make sure it is in order—HVAC repairs can be costly. Inspecting the system in person is certainly helpful.
6. Electrical Wiring
How many online listing photos have you sent that feature electrical wiring? Need we say more? A home may seem great, but either you or your home inspector will want to make sure that a home is properly wired. This is especially true of older homes.
7. Room Size
Though an online listing is sure to tell you a home's square footage, it may not be able to accurately portray the size of a home's rooms or closets. In fact, when photographed correctly, even small spaces can appear rather spacious. If you like what you see online, confirm the space in person.
8. Appliances
Reading things in an online listing like "new, stainless steel appliances" or "upgraded appliances" can be rather catchy. Who needs to check out new appliances? Um, you should. Even appliances that are a year or two old may not have been taken care of. At the very least, they may need a good cleaning. It is OK to be attracted to a home's features, but make sure they're not too good to be true before you make an offer.
9. Roof
Much like it is rare to see photos of a home's electrical wiring, you probably aren't going to get a good look at a home's roof in an online listing. But, you certainly want to get a good look at the roof before you sign on any dotted lines. Roof repairs or replacements can be big, costly jobs. If there is an issue with a home's roof, you need to know up front.
10. Pets
We love our four-legged family members as much as anyone else, but we also know they can wreak havoc on a home at times. It goes without saying that you can't smell pet odors in an online listing. You also may not be able to see any scratches or chew marks that Fluffy or Fido may have left behind. Visit a home in person to see if a family's pets have made an impact you won't be able to deal with.
Remember, the return policy for a new home far differs from your latest online shopping experience. Instead of relying only on images and descriptions you see online, begin your house hunt online. Once you narrow it down a few homes, take your online shopping experience and hit the streets. With this collaborative approach, you're sure to find s home that's right for you.