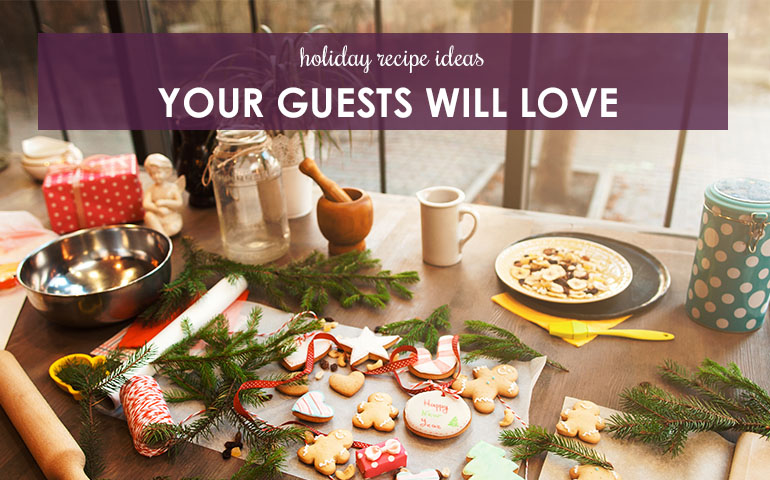 Holiday Recipe Ideas Your Guests Will Love
Being home for the holidays means enjoying quality time with friends and family, indulging in good food and drinks, and making the most of your time together! This holiday season might look a little bit different, but that doesn't mean you won't be able to get busy in the kitchen and create some amazing recipes. Check out some of the best recipes perfect for any festivity this holiday season!
Just barely sweet and warm-spiced, it's hard for this not to just feel like the drink form of your favorite sweater! This honey oat milk latte only takes five minutes to make and is the perfect drink to sip on while opening your presents on Christmas morning. All you need is your favorite coffee or tea, a little bit of honey, oat milk, and a dash of cinnamon!
How to improve on ham-and-cheese quiche? Bake it in a super crispy hash brown crust for the perfect breakfast dish for a crowd. This is an easy dish to make the night before and pull it out on Christmas Morning. All you need to do is heat it up in the oven, and it's ready to serve to your hungry guests!
When every guest is cradling a cocktail in one hand, an easy-to-grab appetizer is essential. These flaky, cheesy bacon twists are both easy and delicious to dunk in a three-cheese beer dip. This is the perfect snack to pull out before that big Holiday dinner you have been preparing for!
As with most gingerbreads, this cake only gets better with time. When it's first baked, it will be light and cakey. If you wrap it and let it sit a day, it will become even more moist and the warm spices will intensify. Either way, it's homey and delicious and perfect for your holiday table. And if you don't have gingerbread cookies to decorate the bottom with, don't worry. This cake can easily stand alone and still impress.
This banana egg nog comes together in a few minutes and makes a sweet way to serve a winter mocktail. The creamy white nog is dazzled with the wintry flavors of nutmeg and allspice. Put it in a mason jar and tie a ribbon around the top of the jar for a cute snowman drink!
Sauteed Green Beans and Mushrooms
Easily upgrade fresh green beans for the holidays with just a few flavorful ingredients. In this recipe, spicy chili flakes, savory garlic and fresh rosemary work together to make an otherwise simple side dish shine.
This cheesy pull-apart Christmas Tree will leave your mouth watering and your guests wanting more! This appetizer only takes 20 minutes from start to finish and is great for any occasion!
Whether you want a casual appetizer on Christmas Eve or want a delicious latte to sip on while opening presents, we have you covered! Just sit back and enjoy the holiday festivities with your loved ones. Happy Holidays, from our family to yours!