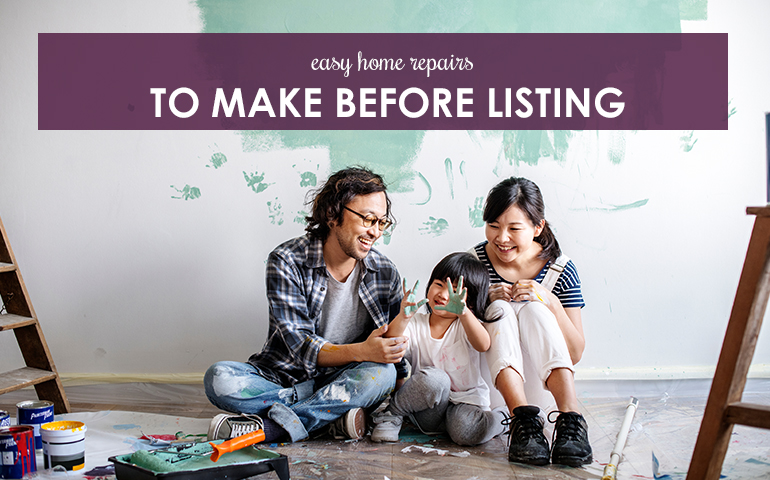 Easy Home Repairs To Make Before Listing
Now that you have some extra time on your hands, it's a great idea to finally tackle that checklist of home repairs you have been putting off. If you are planning on listing your home soon, it is a great idea to take this time to spruce up your home and get it ready for the upcoming real estate season.
Add a Fresh Coat of Paint
Painting is an easy way to give your space a fresh, updated look before it goes on the market that won't break the bank. You can paint one room to freshen it up, go all out by painting every room, or paint the entire exterior of your home. Although it may take some time, painting is one of the most cost-effective improvements you can make to your home that will make it more appealing to buyers.
Make Minor Repairs
Make a list of minor repairs that might need done that you haven't gotten around to. If you have a problem with a running toilet or a leaky faucet, now is a great time to make those repairs. You can make your whole bathroom look much better just by replacing the toilet seat or making other minor repairs. Walk through your home and make sure everything works as it should – from the small things like doorknobs and locks to bigger stuff like your garage door.
Everything doesn't have to be new for a home to be desirable to buyers, but all the functional aspects of the home must be in good working order to fetch the best price. A few broken components are all it takes to start driving the price down or turn off a potential buyer, so get them fixed. It is also a lot better to make these small changes now instead of being forced to make them after an inspection.
Update Your Lighting
Lighting can make even the smallest home seem open and inviting. You want to maximize the perception of space. Take some time to analyze your current space and see if there are a few ways to improve the lighting. If you have "dated" light fixtures this is another area that, for a little bit of money invested, can translate into a quicker sale. Don't forget natural lighting, either. Ditch the heavy drapes for light-colored curtains that let in the sun.

Add in Landscaping
This is one of the easiest and cheapest tricks in the book. Hire a landscaper to give your front yard the once-over, or just clean up the details yourself (e.g., edge the lawn, plant flowers), and update the outdoor furniture on the front porch to give the space a fresh, "buy me now" appeal. Landscaping will add value to your home without breaking the bank!
While you are home, there is no better time to spruce up your home and get it listing ready. Whether you want to update the lighting throughout your or make your garden picture perfect, these tips and tricks are sure to have your home looking its best!