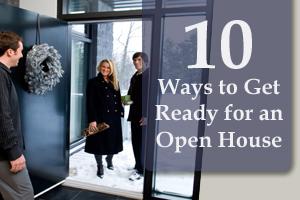 10 Ways to Prep Your Home for an Open House
So, you've listed your home for sale and you're ready to hold an open house. Congratulations! An open house is a fantastic way to drive traffic to your home and, potentially, grab the attention of a prospective buyer. Now, before you unlock the door and let guests in, be sure that your home is in tip-top order.
Here are 10 ways you can prep your home for its open house.
10. Clean and Organize Cupboards, Drawers & Closets
Out of sight, out of mind? Not to prospective buyers. Many buyers will open drawers, cupboards and closets to get a feel for whether or not it's big enough to hold their belongings. While the buyer's intention is not to be invasive, you should be sure that personal items, such as paychecks, bills, bank account statements, etc., are tucked away. Also, make sure that your cupboards and closets are clean and organized. Unorganized, messy storage spaces can give buyers the illusion that the space is too small for their stuff.
9. Take Down the Photos
It's difficult for prospective home buyers to envision a home as their own when pictures of other people are all over the place. Take down (or simply turn over) your picture frames, photos on the refrigerator and any personal or unique artwork. This will allow the buyer to truly get a feel for the home and imagine what it would look like with their belongings in it. As a bonus, this will help you start to detach yourself from the house.
8. Hide the Pets
It's hard to imagine that someone wouldn't like our furry friends, but sometimes pets can deter a buyer from purchasing your home. Arrange for your pets to go somewhere else during your open house. Also, remove any indications that you have pets, including food bowls, cages and crates, toys, litter boxes, and, most importantly, FUR! Vacuum the carpets and furniture, sweep the floors and wipe down anywhere that the fur may have clung to.
Have a non-traditional pet, such as a snake, spider or lizard? Do not live them behind! Prospective buyers, especially those afraid of these creatures, are likely to find them (and your house) unappealing.
7. Fix'r Up
Have a creaky door or a cracked floor tile? Fix it now! While these repairs are minor, they have the potential to turn buyers off. If you don't have enough time to fix everything, focus on the main repairs that will be in sight of the buyer. Issues that pose as a hazard to guests should be fixed first and foremost before holding your open house.
6. Clean Bathrooms
It's hard to feel comfortable in someone else's bathroom, so the cleaner it is -- the better! Clean and sanitize the showers, toilets and sinks. Wipe off the mirrors, windows and shower doors. Be sure that the hand towels, toilet paper and soap are filled and remove any personal items, such as toothbrushes, makeup and hair brushes.
5. Create Curb Appeal
The outside of your home is the first thing a prospective buyer will see and, oftentimes, a drive-by prospect will keep driving if the outside is unappealing. A day or two before your open house, mow the grass and trim the bushes. Make sure any outdoor clutter is cleaned up, including your kids' toys, pool accessories, or gardening tools. Add a fresh coat of paint to fading or chipped shutters and replace rusty house numbers or door hardware.
4. Eliminate Odors
There's a reason why real estate agents bake cookies before an open house. The smell of your home can sometimes make or break a prospective buyer's option. Now, we're not telling you to tie-up your apron, but you should definitely remove of any bad odors. Give your garbage cans a good clean and be sure to take out the trash before guests arrive. Clean out the refrigerator, freezer and pantries—removing out-dated food and odorous items such as onions or eggs. Treat your garbage disposal to an odor-reducing lemon and baking soda bath. And, pet owners… spray a pet cleaner on your carpets and furniture to give them a fresh smell.
3. Create handouts
Talk to your real estate agent about creating a few handouts for your guests to take. Prudential Preferred Realty agents can create custom flyers with all your home's information and photos, as well as a Neighborhood Trends report that will show buyers what's happening in the neighborhood. Also, consider creating a handout that points out some of your neighborhood's highlights – such as parks, restaurants, events or schools.
2. Do a Walk-Through
Ask your real estate agent to come in a day or two before your open house to do a walk-through. Your agent will be able to point out anything that you should take care of before guests arrive. Have questions?
1. Get Out!
Okay, that was harsh, but the owner should not be in the house during the open house. Your presence can make the buyer very uncomfortable. We understand that no one knows your house better than you, but your real estate is a professional and will be able to showcase your home in the best way.
If you have any questions along the way, be sure to ask your realtor. If you haven't yet chosen a real estate agent, take our compatibility test which will match you up with someone who best fits your personality and needs.