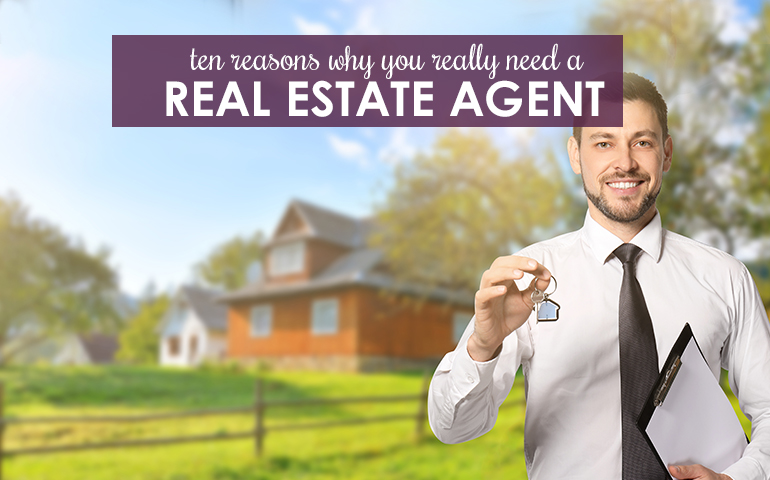 Buyers and Sellers: 10 Reasons You Need a Real Estate Agent
The school year is winding down, which means that soon, many more motivated home buyers will be entering the real estate market with high hopes of settling into a new home before another school year begins. For sellers, that's great news—as long as they're properly marketing their home. For other buyers—an influx in competition could be detrimental to finding the right home.

What can buyers and sellers do to put themselves in the best position possible in a busy market? Work with an awesome real estate agent, of course! If you're not convinced you need professional help to buy or sell your home, here are 10 good reasons you really do need a real estate agent:

1. You're Top Priority
When you work with a real estate agent, helping you buy or sell your home is their main objective. After all, that's how they excel in their chosen career!

2. Education
Speaking of their chosen careers, real estate agents know how to buy and sell homes, because they made the choice to learn how to so—and they do it all the time. Put their professional education and expertise to work for you.

3. Local Knowledge
Not only do agents have a firm knowledge of the real estate market, they also have a great grasp on the area where they help people buy and sell homes. From available homes to eateries to recreation and more, your agent may be an area expert on a lot of topics!

4. Professional Connections
Area attractions aren't the only things real estate agents have the inside scoop on. They also have a list of lenders, inspectors, contractors and other professionals whose help you may need during your real estate transaction.

5. Pricing
When you're selling a home, agents can help you set the right price for your home from the start. If you're buying a home, they're right there to make sure the home you're interested in is priced fairly. How can they be so sure? They can complete a comparative market analysis for you of other homes that are listed or have recently sold.

6. Showings
For sellers, real estate agents not only arrange showings, but they also show your home until it sells. For buyers, agents arrange for you to visit each and every home you're interested in. They also accompany you to each home you want to see.

7. Negotiations
The last thing you want to do when you're buying or selling a home is lose at the negotiating table. An experienced real estate agent can help you make an offer, counter one, accept an offer – they're your expert for each and every aspect of negotiating.

8. Paperwork
Buying and selling a home comes with a decent amount of paperwork. Are you prepared to deal with mountains of reading and signatures? Your real estate agent can help you get through it all a lot easier.

9. Honesty
Whether you're buying or selling a home, your real estate agent is someone you can trust. For sellers, your agent will give you an honest opinion about pricing your home, staging it and even leaving it—for showings! Buyers can rely on agents to tell them if their needs and wants are realistic, if their offer is reasonable and a whole lot of other things. Agents want to be honest with you and make you happy. Why? So that you refer them to others!

10. Your Time
If you don't think you need a real estate agent for one of these reasons, how about for all of them? It takes a lot of time and energy to buy or sell a home—you can pretty much double that if you plan to go it alone. With a real estate agent's help, your home buying or selling experience is sure to go more smoothly.

Readying to get the buying or selling process started? Let us help!