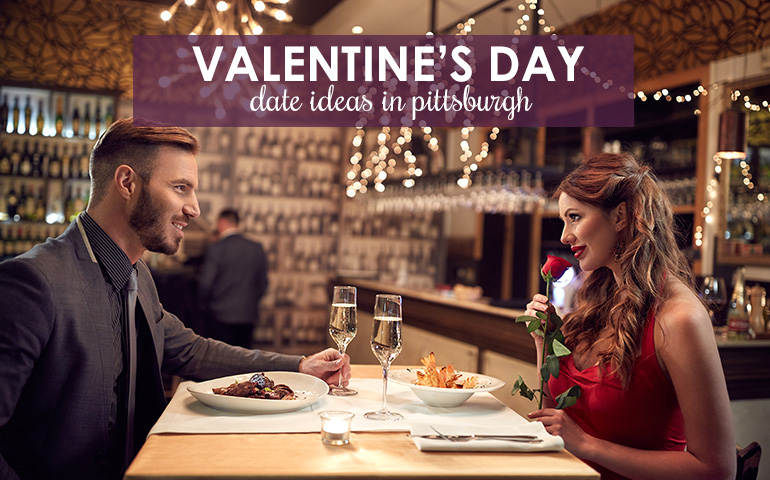 10 Great Pittsburgh Date Ideas in Time for Valentine's Day
Valentine's Day is today, but if you haven't already made reservations for you and your special someone, don't worry! Pittsburgh offers something for any-and-every couple, whether it's Cupid's favorite holiday or an otherwise ordinary weekend.
Here are 10 favorite date ideas you can enjoy in and around Pittsburgh:
1. Sarris Candies: Who doesn't love chocolates for Valentine's Day? At this Canonsburg shop, you can have your chocolate—and ice cream in their old-fashioned parlor, too! Something else sweet about this candy shop? Find out how its founder first won over his sweetheart.
2. Senti: Impress that special someone with a modern twist on your typical dinner out. This Lawrenceville restaurant and wine bar brings European appeal to one of Pittsburgh's favorite neighborhoods.
3. Arlecchino: This McMurray restaurant's intimate atmosphere is sure to win over… well, anyone! The incredible food and service will make your occasion a special one. But if you want to dine at Arlecchino, you'll need a reservation.
4. Bella Sera: This Canonsburg bistro is not only a wedding and event venue. You can attend a theme night or stop in and sample the delicious menu during your lunch break.
5. Pittsburgh Glass Center: Looking for a hot date with your Valentine? Take a glassblowing class in the city! You and your partner can work together to make a beautiful creation, then enjoy drinks and hors d'oeuvres.
6. Narcisi Winery: Just north of Pittsburgh in Gibsonia, you can find a great date spot that is even pet- and family-friendly! Tour the winery and enjoy a private tasting, then stay for lunch or bring your own! Not only are picnics welcome, but so are your four-legged family members.
7. Carnegie Museum of Natural History: After dark, of course! Discover something new about your Valentine during this historic hot spot's after-hours party. With hands-on activities, live music, drinks and more, who could say "no" to spending the evening at a pre-historic party?!
8. The Andy Warhol Museum: Explore some of Andy Warhol's art and then make some of your own. Looking for a way to make your Valentine feel simply famous? You can even star in your own short film at the museum!
9. LumberjAxes: Are you and your love more of the active—or even aggressive—types? Check out Pittsburgh's first axe-throwing venue, LumberjAxes, in the city's Millvale neighborhood. Axe throwing? Yes, it's safe—and so satisfying!
10. North Park: If you and your sweetheart are itching for some outdoor activities, head over to North Park. On Valentine's Day, there will be a special ice-skating session. Once winter's cold melts away, you can enjoy more outdoor fun, including everything from golfing to fishing!
With so much to do in and around the city of Pittsburgh, you and your Valentine will need more than just one day to enjoy everything. Our advice? Get started this Valentine's Day, but let your date-night fun in Pittsburgh continue throughout the year!