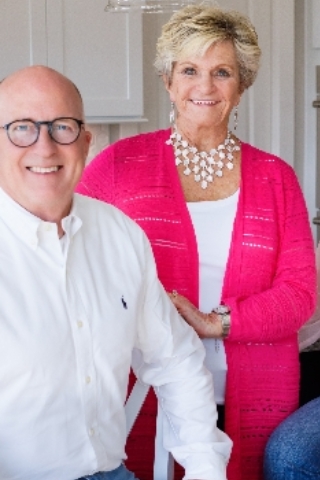 Jack Hutterer

- Hutterer & Stahl Team

Realtor®

Saxonburg Office


Call Agent Text Agent

(3 reviews on Zillow)

Hutterer & Stahl Team Client Testimonials

09/07/2020 - gr4toby
Sold a singleFamily home in 2020 for approximately $225K.
Jack and the rest of the team were very helpful in going through the process of selling our house in Saxonburg. Jack was professional, personable, knowledgeable, and always responded in a timely manner. I highly recommend Jack and this realtor group. It was a pleasure working with them.
Thanks to Marilyn Stahl & all of Jack's team for making the process of selling our home as smooth & painless as possible. We would highly recommend them as kind, understanding, and seasoned professionals. Thanks again, Tom & Gretchen Flynn
~ Gretchen Flynn
Loved the updates about house showings and feedback. Great selling suggestions for the house. Very professional.
~ Emery Drescher
gets things done!!!
~ F.E.
Always responded to every question or need I had while selling my house. Truly professional.and very thorough excellent service and totally satisfied
~ Albert Fogle
We have had issues with other realtors in the past, but this time around our experience was great. Kerri was very informative, kept us in the loop and more then anything she was on top of everything as soon as something came up she got it done! Will highly recommend Kerri to anyone. Thank you! Catie Kamerer
~ Catherine Kamerer
I thought Jack and Kerrie both did a great job. There are a lot of moving parts to buying and selling a house and they really helped us through the whole process.
~ J.B.
Not only do you get a great realtor but you get the experience of the whole team.
~ D.C.
We worked with Sabrina and Jack and they were both very helpful in all aspects of the home buying process. Sabrina is such a delightful agent to work with and is very knowledgeable! She went above and beyond for our family and we are so excited with our new home! Thanks so much to Sabrina and Jack! I highly recommend them both.
~ H.C.
We had friendly, professional service from Jack and his entire team. They sold our house in only 3 weeks! They know the area, they know the market, and they know how to sell houses! We highly recommend them to anyone buying or selling a home.
~ Weichert Relocation
Jack and his team were very professional and willing to help in any way we needed them to. Kerri LeDonne was also an excellent buyers agent who helped us tirelessly to find our perfect home.
~ Jason Bodnar
Very good Communication skills, prompt responses to questions, friendly service.
~ R.A.
From the start, I felt that I had strong representation. They really helped me through all the "crazy"! Thanks to all!
~ C.C.
Always available to answer questions. Friendly and knowledgeable.
~ K.R.
My husband Rick and I needed to sell my mother's home to provide funds for her permanent nursing home stay. We contacted Jack and Joyce Hutterer because of their reputations as top realty sellers in our area. We were novices at selling a home. Jack and Joyce met with us in a timely manner and gave us a thorough overview of how they would represent us and what our responsibilities would be. Their professionalism was evident from day one. I made the easy decision to work with the Hutterer team. Phone calls were returned. The office support team was friendly. Many questions were answered along the way to sale. Local contractors who knew the Hutterers responded to our needs in a day or two. Rick and I feel we could never have accomplished a sale, let alone a winter sale, of a home in such a short time. We will continue to sing the praises of the Hutterer team. Carolyn J. Graff
~ Mary Orris
I didn't use jack, we had Mike Bauer and he is probably hands down, the best realitor in western PA, not only did he make time to show us houses on our crazy schedule, he actually cared. He went well out of his way to make sure we found our dream home, and we did. I will recommend him to anyone looking for a house. Every other realtor just wants the sale, Mike Bauer will look you in the eye and not feed you a line of bull. Mike your the man!
~ Michael Raible
Jack was very attentive. He responded to my questions in a promptly manner. Selling my home after 20 years was an emotionally difficult time. As a widow this was all new to me. Jack took his time to walk me thru the process and ease some anxiety along the way
~ P.A.H.
They were quick with updates on every aspect of what was going on with the sell of my mothers house. They were honest and upfront about everything. They know the market area where the house is selling extremely well. I was very confident and comfortable dealing with them.
~ Ann Napierkowski
My agent Mike Bauer was wonderful from start to finish! He is so kind and caring and really knew everything about selling my first home. He had the answers to everything I questioned. And his strategy for getting the most out of my home made the sale a very fast one for me, which I needed. He even went to closing for me since I had moved 1000 miles away. I can not say enough good things about Mike! And I would refer everyone to your company and to Mike. Thank you for the opportunity to tell you so! Sincerely, [FIRST NAME REMOVED] Beth Bauer
~ M.B.E.B.
Don't know jack
~ J.C.F.I.
Marilyn Stahl was my agent and she was wonderful to work with. I was able to contact her at anytime, always pleasant and helpful. If she didn't have the answer, and she always did, she was willing to get the answer and get right back to me. This was my first experience buying or selling a home so it's my only point of reference but I was completely satisfied and I would definitely be willing to recommend Marilyn to anyone. I also had the pleasure to work with Sabrina Martin in the office. Sabrina always responded to my inquiries, was very pleasant and helpful, and was able to answer all my questions.
~ Iris P Wood Estate
Marilyn was wonderful to work with!
~ B.W.
Jack went above and beyond helping my husband and myself in the sale of our house. He is there for u 24/7.
~ Fred R Young
Thorough service from the beginning to the end. Loved that when I asked for advice on numbers (i.e. listing price, negotiations, etc) that Jack and Joyce both did not hold back but gave their opinion while explaining the pros/cons of doing so. Pictures of the listing were phenomenal and highlighted the house well given its size, etc. Extremely satisfied with whole process.
~ R.A.B.
Very Knowedgable and attentive to all needs of a new home buyer overall great team to work with!
~ Michael J. Russell
We were very happy with the service Marilyn Stahl provided us. She was totally professional - very knowledgeable, diligent in her follow-up and most importantly honest with us.
~ Brenda Lemmon
No problems. Professional. Quick to return calls and answer questions. Enjoyed working with Jack very much, he was patient and handled things very professionally.
~ Wilfred Balentine
I worked with Marilyn Stahl and was thankful for her excellent guidance and compassion during the process of selling my home. I had to settle on sell of my home and purchase a home all the same day and she made it possible. Also thankful for loan of box truck for my move.
~ P.J.W.
The Hutterer & Stahl Team made the process of selling our home and buying a new home simple! They made the whole process as stress free as they could! I would recommend this team to anyone who is buying or selling a home! Thank you Jack, Joyce, Marilyn, Christine, and Sabrina!
~ J.M.
VERY FRIENDLY HAND ON WORK
~ D.A.B.
He was very timely with his paperwork and negotiations. He was also very knowledgeable.
~ K.R.K.
The Hutterer-Stahl team has perfected the customer experience! They think of everything that may affect the individual customer in their decision making for that perfect house for them. It is amazing things we wouldn't have necessarily thought about they were on top of to ensure we picked the best house for us and our lifestyle. I would highly recommend them to everyone and anyone (even complete strangers) you will not be disappointed at all, in fact they will probably leave you with the "wow" factor. We couldn't be happier with choosing to work with them when buying our first home, which we thought would be extremely stressful they made it extremely enjoyable! Thank you!!!
~ M.L.M.
Jack seemed knowledgeable regarding sale price, presentation of the house, and negotiating. He was conscience about responding to my inquires both via phone and email. The other members of his team were helpful and friendly.
~ K.S.
Everything! Jack was great to work with. It was a great experience with the whole team. The use of their truck was fantastic. I will only want to work with Jack and his team in the future.
~ T.M.
Jack was great through the entire process. Any question or concern I had Jack was readily available and quick to answer. We were so happy we chose Jack and the whole Northwood Realty Team!
~ J.L.S.
Because Marilyn Stahl was GREAT. Liked all your advertising, and the quit sale of our home. However I would like the for sale sign taken down from our old home so folks would stop asking if we sold yet. Thanks, [FIRST NAME REMOVED] Carr
~ A.L.C.
Comprehensive team coverage of all our needs in assisting my parents in selling their home. Use of the truck was terrific. Availability and responsiveness of the team was outstanding any day, any time.
~ C.W.N.
Lots of pictures, very good suggestions on what to do to help sell the home,
~ R.R.
We loved working with Christine Meyer! She was a great combination of business savy and friendly personality. We always felt like we had someone in our corner looking out for our best interest. I would recommend her to anyone looking for a new home!
~ G.G.M.
Jack is very knowledgeable about all aspects of the real estate business and his years of experience provide great benefits to his clients. He is very personable and easy to deal with. His pricing recommendations were the best that we received.
~ G.K.
From the beginning Jack Hutterer inspired confidence in selling the property. His advice on getting the property for sale was invaluable. He was recommended by a close friend, and I certainly would recommend him.
~ P.D.
Marylin was excellent
~ J.O.
Very Professional.
~ B.K.
always took my phone calls and answered any questions promptly, did not have to deal with voice mail. also have a good understanding of the local real estate market.
~ P.C.
Marlyn is the reason I would recommend Northwood Realty. She is the most hard working sales person I meet. You are so lucky to have her with you
~ M.T.
We were extremely pleased with our service. Jack, Joyce and Christine went the extra mile to help us through the selling of two homes and a challenging purchase. Their dedication at any hour of the day reflects the quality of individuals that represent Northwood Realty Services.
~ K.E.J.
Easy to contact and provide information that was requested.
~ D.C.
As an out-of-state Realtor, Jack Hutterer, Northwood Realty Services, will be my first choice as a referral. He brings forth everything any customer would want and deserves – professionalism, knowledge, attention to detail, good judgment, communication and hard work. Thank you Jack!
~ Eva Varos
We worked with several agents at NWR. All were knowledgeable, friendly and professional. It was a a seamless, enjoyable experience.
~ Jerry Rea
Professionalism, attention to detail, outstanding communication, reliable, compassionate, knowledgeable. A finely tuned professional all encompassing team. Use of the Hutterer Team truck was invaluable.
~ John Kossan
I was completely satisfied with the whole Northwood team! Thank you for all of your help in making this transaction possible.
~ B.A.
We were serviced by several agents. All were extremely knowledgeable and helpful. We were treated with respect and dignity. We had a very enjoyable experience and would highly recommend your company to others.
~ J.R.
SALES PERSON REACTION TO MY REQUESTS
~ M.T.
Christine was beyond accommodating with our schedule! She truly has a heart of gold!
~ C.K.
Ability to reach someone easily to answer questions without feeling as if you are bothering them.
~ P.P.
Good communications and no pushing
~ Victor P Ardito
The Hutterer/Stahl team communicated well and were forthright with the process. Our home sold very quickly and we moved out of state prior to the closing. This team provided excellent, timely, honest, and trustworthy services. We are grateful to have chosen them.
~ Harry Beck
Everything was above par. Thank you for your service.
~ B.E.