Guarantee of Service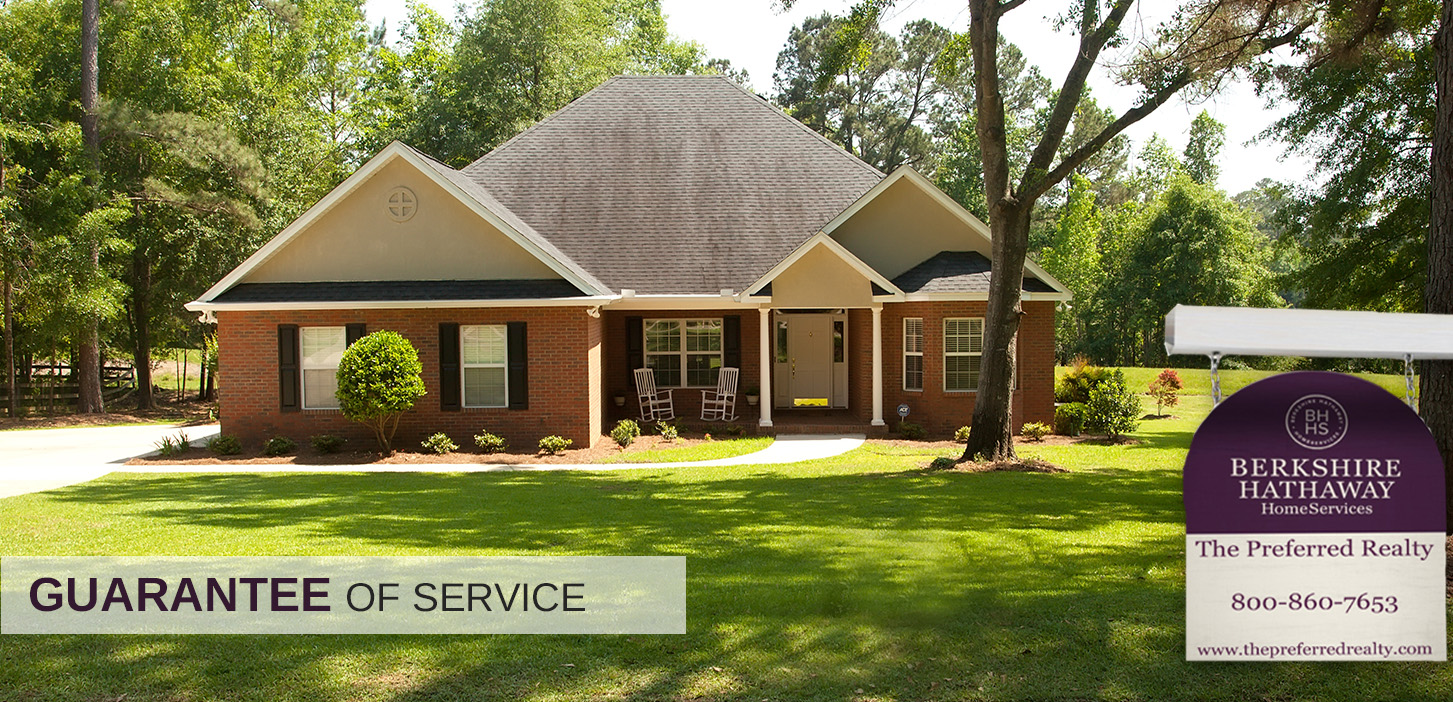 When you list your home with a Berkshire Hathaway HomeServices The Preferred Realty sales associate, we guarantee to provide the specific real estate services. If these services are not provided and we do not fix the problem within 24 hours after notification, you may cancel your listing.
These services include:
CREATE A COMPARATIVE MARKET ANALYSIS (CMA)
We will supply you with a comparative market analysis (CMA) which will help you establish a realistic, competitive sales price based on current factual market activity.
ENTER YOUR PROPERTY IN THE WEST-PENN MLS
We will enter your property on the West Penn Multi-List (MLS) which will expose your property to over 7,000 members. Additionally, upon adding your listing to the MLS, it will be sent to hundreds of websites, including Zillow, Trulia and Realtor.com.
PLACE A YARD SIGN ON YOUR PROPERTY
If desired, we will install a distinguished Berkshire Hathaway HomeServices yard sign on your property. This highly recognizable yard sign is one of the most effective ways to drive traffic to your listing.
ARRANGE A PREVIEW TOUR
We will give your property a "jump-start" in the marketplace by arranging a preview tour with local real estate professionals, if customary in your specific area.
DEVELOP A 60-DAY MARKETING PLAN
We will present you with a 60-day marketing plan that is developed specifically for your property. This marketing plan could involve print ads, digital ads, social media marketing, email campaigns and more!
CREATE A VIRTUAL TOUR
Virtual tours allow prospective home buyers to tour your home 24/7! Within 14 days of listing your home, we will send a professional photographer to your home to take photos for the virtual tour. We will then create the virtual tour and post it on our website.
DESIGN A CUSTOM PROPERTY BROCHURE
This professionally designed property brochure is a proven way to get more buyers' eyes on your home. This brochure can be printed, emailed or shared socially.
PRE-APPROVE PROSPECTIVE BUYERS
In collaboration with Pennsylvania Preferred Mortgage, we will pre-approve our prospects before showing your home.
COMMUNICATE PROSPECTIVE BUYER FEEDBACK
After each showing, we will provide you with consumer feedback regarding your property. This can be a very important part of the home marketing process.
PROVIDE FREE RELOCATION & REFERRAL SERVICES
If needed, we will provide you with relocation and referral services at no cost.
REPRESENT YOU
We will represent you at the presentations of all contracts by cooperating brokers and we will help you negotiate the best possible price and terms.
MAKE AVAILABLE INSURANCE INFORMATION
We will provide you with information and contacts for all of your home insurance needs.
OFFER A HMS HOME WARRANTY
To give your home a competitive edge, we will offer a home warranty through HMS National.

Guarantee of Service will apply to an Exclusive Right to Sell Agreement concerning the property described as _____________. If any terms or conditions contained herein are prohibited by local law, said terms and conditions shall be considered severed from this agreement. This agreement must be signed at the time of the listing to be valid. As the sole remedy for any breach of promises under the terms of this agreement, seller is entitled to terminate the Exclusive Right to Sell agreement provided the broker is given 24 hours written notice of the reasons for termination and a n opportunity to correct the default during the notice period. In the event of said termination, all termination terms as stated in the listing agreement will apply. All parties acknowledge the terms of this exclusive Guarantee of Service. Execution by all parties as indicated is binding.