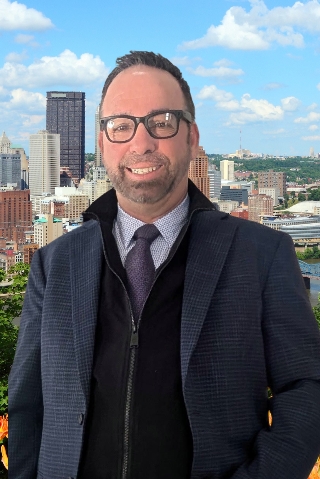 Pierre Khoury

- PierreandGia.com Team

Realtor®

Cranberry Twp Regional Office


Call Agent Text Agent

(14 reviews on Zillow)
www.pierreandgia.com/




PierreandGia.com Team Client Testimonials

06/08/2022 - ferdponder
Bought and sold a single family home in 2022 for approximately $175K in Pittsburgh, PA 15224.
Melissa is an Amazing agent! I have worked with many agents over the past two decades. Melissa by far ranks among the top 1%. In the current real estate market, if you want the deal, you will need an agent who is quick to respond, adept in negotiation, and always look out for your interest - whether you are selling or buying, Melissa is that agent!

02/09/2022 - ermoser104
Bought a single family home in 2021 in Ellwood City, PA 16117.
Melissa was amazing! As first-time buyers, we were anxious and unsure about the process at first, but Melissa walked us through every step. She was always available to answer our questions and talk through our concerns, and was an amazing advocate for us in negotiations. Melissa is professional but laid back, which put us at ease right away and helped to calm our nerves while we went through a very long closing process. We're so happy with our first home - thank you Melissa Beck!

12/14/2021 - Tiffany Floyd
Sold a single family home in 2021 in Mars, PA 16046.
Melissa is a caring and responsive realtor. Anything we needed she was always available or made arrangements to be available. We are very thankful for all the work she did to make the sell of our house go as smooth as possible especially as we did most of it remotely. We would highly recommend her. She is an amazing person and so glad that we were lucky enough to find her to be our realtor.

09/01/2021 - haysvickij
Bought and sold a home in 2021 for approximately $325K in Myoma, Mars, PA 16046.
In both the sale of our house and the purchase of another, Melissa Beck represented us professionally. From our first meeting, she fully explained what we should expect from the cost of her engagement, staging and photos for a brochure presentation. Melissa answered our questions, returned phone calls and answered texts promptly. Her knowledge of the entire process resulted in a successful and quick sale of our house. She worked with us to locate a house in the community to which we were moving, worked with the seller's representative and handled all the details of the purchase. Melissa was always available, active in the process, and knowledgeable of both sides of our transaction. Melissa always wore a smile, and she facilitated the sale and purchase excellently. We highly recommend Melissa Beck.

09/01/2021 - pckeller81
Sold a single family home in 2021 for approximately $250K in Fawn Haven Number Two, Gibsonia, PA 15044.
Melissa is awesome!! Melissa sold my Mother's house in 1 day!!She listened to my sister and me, gave us very good advice.She was with us every step of the way and made the sale quick and easy.You won't regret choosing Melissa Beck.

08/30/2021 - brandonsethadkins
Bought and sold a single family home in 2021 for approximately $325K in Myoma, Mars, PA 16046.
Melissa was very helpful during the entire process of selling my home and finding a new one. My wife and I gave her ideas of what we were looking for in a home and the area we wanted to live based on proximity to my job. She contacted us quickly when homes came on the market that met our needs, which was extremely important during this hot market where homes were being sold so quickly. I would recommend Melissa to anyone looking for a professional and hard-working realtor.

06/28/2021 - samue g benson
Bought a single family home in 2021 for approximately $325K in Zelienople, PA 16063.
Melissa was great! She made buying our first home easy and she was always available for all of our questions. She was very straightforward and honest throughout the entire process and I definitely recommend her.

02/02/2021 - patrickcampbell04
Bought a single family home in 2020 for approximately $275K in Fawn Haven Number Two, Gibsonia, PA 15044.
We couldn't have asked for a better realtor than Melissa. She was incredibly knowledgeable, professional, and fun to work with. Melissa talked through options with us but was never pushy and always gave us plenty of space to think through our options when purchasing a home. We have already recommended her to our local friends and family and will continue to do so.

01/26/2021 - courtney dekker00
Bought a town home in 2020 for approximately $275K in Hays Mill, Mars, PA 16046.
Melissa is wonderful realtor to work with! She is easy going and knows plenty of knowledge to help make the right decision! As a first time home buyer I had no clue what to do or expect! She steered me in the right direction with what to look out for and what would be a good home for me! I always appreciated her honest feedback! Highly recommend her!

01/26/2021 - RachnaIyer Palm
Bought and sold a town home in 2020 in Hays Mill, Mars, PA 16046.
We had the opportunity to meet Melissa for the first time at an open house in our housing plan over a year ago. We instantly connected and were pleased to use Melissa as our exclusive realtor because of her friendly personality and her willingness to help us find our dream house. Melissa was extremely patient in showing us numerous homes in the span of an year. Her professionalism, responsiveness and her ability to grasp our needs quickly was her tremendous asset. Melissa was proactive in reaching out and always looked out for our best interests. We were finally able to find our dream house thanks to Melissa and we wanted her to help sell our townhouse as well. Melissa sold our townhouse in record time. It sold the same day it was listed over asking price in blizzard conditions. Needless to say, we were delighted and I can say with full confidence that you will not be disappointed working with Melissa. She is one of the finest realtors I have ever met and any clients would be truly lucky to have her! I would like to endorse her with my highest recommendation! I not only met a wonderful realtor but also ended up with a lovely friend!

01/04/2021 - guerra124
Bought a single family home in 2021 for approximately $400K in McGovern, Houston, PA 15342.
Melissa Beck is not only a fantastic person, but she is a super Agent. She always made herself available to show us houses and answer questions. She was great on getting back with us. And she coached us through the entire process to closing. I would recommend Melissa to my family and friends. You can't go wrong with Melissa Beck.

07/30/2020 - Sarah Miller
Bought a single family home in 2020 for approximately $300K in Fawn Haven Number Two, Gibsonia, PA 15044.
MelissaMelissa was a great agent for us as nervous, first-time home buyers. From day one, she was there for us as we slowly transitioned into the buyers market. She was graciously available by phone or text whenever we had questions, and she always made room in her busy schedule show homes to us. We knew we could count on her to give us her honest opinions and expertise. Searching for our first home was stressful, but Melissa made us feel at ease and guided us through each step of the process. Melissa has become a good friend to us and we highly recommend working with her - you won't be disappointed!
They were great to work with. Very accommodating and good at what they do. I would recommend them to anyone
~ D.B.
Pierre and team were excellent. Every step of our home sale and purchase was handled meticulously. I highly recommend Pierre and team.
~ S.S.
Pierre provided a high level of customer service with prompt responses to our questions and reassuring guidance through a stressful closing situation. Thank you for a job well done!
~ K.S.
Very professional, honest and his work ethic shows.
~ Adam Thorley
Always available. Always. Takes responsibility and accountability serious.
~ T.W.
Pierre's team was awesome. Always prompt in returning calls. Very organized. Entire process was very smooth and efficient.
~ Timothy Lott
Pierre went above and beyond as a real estate agent. The results speak for themselves. My house sold well above asking price in less than 24 hours and I bought my new house at a competitive price below the listed value. We closed on both houses the same morning. The entire process went better than we ever could have expected. Pierre listened to what we wanted and made it all happen. He really knows the area exceptionally well, is readily reachable when needed, and is always very professional.
~ S.P.
Friendly, professional, knowledgeable and always available to answer our questions. Willing to do the little extras for you that may come along. Pierre and Gia make a great team. Would definitely recommend them in the future.
~ Jim Miller
Used all media channels to market home. Did not just depend on Multi List to bring in potential buyers. Provided us with excellent advice on things to do to help sell the house. We were extremely pleased
~ David Weber
Amy answered my millions of questions and made everything hassle free. The team came to me with a buyer who wanted to close in 30 days. We settled at 45 days. The team over communicated, which I liked. I know it is rare, but they brought me a buyer when my house was not even on the market.
~ Mark Huba
We loved how responsive and proactive Pierre was to every little detail in selling our home. His marketing techniques, expertise, attention to detail and dedication exceeded all of our expectations. He always reassured us that he and his team would sell our home in a timely matter and they did! Pierre did everything he promised us and more. You will be hard pressed to find someone who will work harder for you than Pierre! We would highly recommend he and his team to anyone.
~ Kenneth Elias
I both bought and sold my home with Pierre Khoury and his team, and I absolutely recommend Pierre and Gia to anyone staring the home buying or selling process. They were both amazing teammates in our search for a home that would be a fantastic fit for our family and worked tirelessly to sure that we got it at the best value possible. The team were flexible to make sure they were always available when we need them and completed all the paperwork in a very timely manner. Their professionalism and dedication to the customer and my goals in a home and home buying experience made me and my wife comfortable that we made the right decisions. We will work with Pierre again.
~ Brad Vukich
Our agent Christine Wilson was truly exceptional. I've worked in the real estate industry for over 17 years and have never met a more thorough communicator than Chris. She made my girlfriend and I feel very comfortable throughout our entire homebuying experience. We actually weren't in a hurry to buy and intended to wait 9 months. That never stopped Chris from taking us to see homes whenever and wherever we asked. She never made us feel as though we were wasting her time, considering we had such long term plans. She trusted us and in turn we trusted her. We personally recommend Chris to anyone buying a home. She is an amazing ambassador for buyers and will always put your needs and interests first. If and when the time comes for us to sell our home, there will be no doubt in our minds that we will choose Chris once again. In the end, we not only found our dream home, but an amazing friend in Chris.
~ David Nadzam
Gia was amazing! We had limited time to find a home. When the first batch of houses wasn't what we were looking for Gia took us back to the office to look for more options and then back out again to see them in person. Gia was tireless in her efforts to find us the right home, close the deal, and make things as stress free as possible. The technology they use allowed us to sign complete all the paperwork remotely while we were on vacation. Not sure how we could have survived the relocation process without Gia!
~ Allie Koch
I chose Pierre and Gia to be my agents in the selling of my house. My only reason at the time was simply that I'd seen their name on other houses for sale in my neighborhood.That said, I couldn't have chosen better. From the first call to the last, not only did they respond within five minutes, but it was also in person more often than not. Always professional, polite and beyond helpful, Pierre and Gia went out of their way to assist me during the sale of my home. Since then, I have continued to look to them for guidance and assistance and have never been disappointed. If you want to sell or buy a house, put yourself in the very capable hands of Pierre and Gia and their team. They're simply the best!
~ Ilona Pettigrew
We worked with Gia in 2010. We had recently moved from New Jersey to Pittsburgh. Gia worked tirelessly to set up appointments & help us get familiar with the area & was mindful of our budget. She guided us in areas such as school districts, commute time to the city & real estate taxes. After many months, we finally decided on new construction. Gia was also very helpful throughout this process, serving as a liaison between the builder and us & was very knowledgeable in answering our questions. She coordinated meetings with the builder & mitigated issues. As a result of Gia's involvement, a process that could be very stressful was made much easier and smooth. She often worked after hours to accommodate our work schedule and was always available in the evening for phone calls and text messages. Gia was a pleasure to work with & showed great professionalism & work ethic in seeing the sale through from inception to closing. We would absolutely recommend Gia to anyone that needs a realtor.
~ Tom & Jen P.
Pierre was really great to work with. He put a lot of energy and enthusiasm into his work and sold our house in the middle of winter in a recession. It was always easy to get in contact with Pierre (phone, email, text) and he had many innovative and well thought-out marketing strategies. He is very reliable; he gave weekly updates via phone and email with marketing statistics on our listing. He also checked our house on a weekly basis since we moved before we sold. I highly recommend working with Pierre if you are buying or selling.
~ Steven W.
Pierre was highly professional and detail oriented in helping us both sell our existing home and looking for our new home. He is very knowledgeable of the industry and provided expert insight to the many homes we toured. He was very flexible in accommodating our schedule and took his time to ensure we were in position to make an informed decision with both the selling and purchasing of our homes. I would recommend him to anyone interested in pursuing either selling their home or exploring purchasing a new home!
~ Mike G.
When selling a home and purchasing a new one there is a lot of stress especially when you sell your home before your new one is completed. For us, having Gia was a life saver. We needed housing for three months and we had no idea where to go or how the process worked. We also have a dog which complicated matters even more.She found us housing for three months and we were assured by her we would be in our new home on a certain date and we were.She found us a handyman to hang our pictures and our curtains and went above and beyond what we expected. I highly recommend Gia and Pierre and would use them again, hopefully I am in my new home for many years to come!
~ Don B.