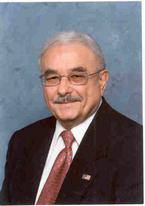 Frank D'Amico
Realtor®
Beaver Regional Office

O: 724-774-2222

EXPERIENCE DOES MATTER!

As a proud member of the local community and of the real estate profession for over 

40 years; I can tell you that "experience" does count.  I am a past director of the Beaver 

County Association of Realtors, a member of the National Association of Realtors, and a 

member of the Pennsylvania Association of Realtors.  My wife, Marge, and I are  active 

members of my church.  

Real Estate is part of who I am.  My many years of experience, wisdom and knowledge of the 

local market and how to successfully close sales has brought me much.  When you are 

looking for that right person to help you with your real estate transaction, give me or my 

office a call and you will find our experience to be above the rest!
Member of Trinity Church - Beaver
Associate Broker
Past BCAR Board of Directors
1986 Realtor Associate of the Year
2004 BCAR Realtor of the Year
My Certifications
QSC (Quality Service Certification)