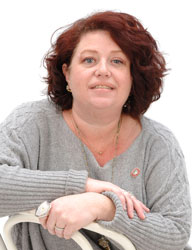 As the child of a contractor, you learn to appreciate the work it takes to build or remodel a home. As a wife and mother, you learn to appreciate what a home of your own means to the security and well-being of your family. As a Realtor, you learn to listen to each clients' needs and help to guide them through the process towards owning a home of their own.
* Born and raised in Schuylkill County, PA
* Lived in Montgomery County, MD - Lancaster County, PA - Litchfield County, CT
* Currently residing in Penn Township with children attending Penn-Trafford schools
* Attended Philadelphia College of Textiles and Science majoring in Interior Design
* Former business owner with over 25 years experience in Sales and Customer Service
* Spends downtime searching for "vintage treasures" at estate sales and flea markets with Husband, working on as many home projects as Husband's patience will allow and enjoying time spent with children as much as they will allow!