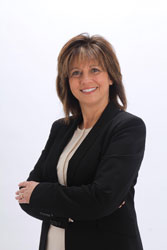 Cheryl's mission is to provide you with the very best buying and selling experience possible. By developing a personal relationship with you, together we can ensure that all of your needs are identified and met. Cheryl is a full time REALTOR and is driven by a passion to serve you.

Cheryl focuses her real estate business in Allegheny County (where she grew up), Butler County, where she currently lives, as well as Beaver and Washington counties.

Cheryl is dedicated to working to find the perfect place for your next home. Her resources for mortgages, attorneys, home inspections, insurance, and more make her service complete. She also excels in successful negotiations and utilizes today's technology to effectively market your current home for top dollar.

Cheryl is a sales professional with over 20 years of experience in sales and marketing with a Fortune 500 company. She has won numerous prestigious sales and marketing awards because of her focus on customer satisfaction.

Cheryl is a proud Gold Star mother of three sons who served our country in the U.S. Army with seven tours in Iraq. She is passionate in serving our troops and veterans through the Gold Star Mother and Wounded Warrior organizations.

Driven by a passion to serve!