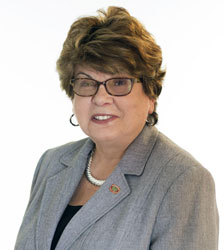 Susan Accetta

- Accetta / Miller Team

Realtor®

Peters Twp Office


Call Agent Text Agent www.accettamiller.com

Accetta / Miller Team Client Testimonials
Susan was extremely knowledgeable. She had several open houses and showings almost every day. She worked so hard to get our house and property sold. Susan really proved, many times, that she had our best interests at heart. She is personable, down to earth and a joy to get to know. I highly recommend her if you're selling. We relocated so didn't have the opportunity to utilize her skills for purchasing a home.
~ ruthbobmower
We worked with Sue to find out first home and were not disappointed. Sue gave us her honest and unbiased opinion throughout, leaning on years of expertise, and saved us a lot of heartache and stress as a result. Sue was a savy negotiator and helped us find the perfect home for us within our price point. I would definitely recommend Sue and her team to anyone looking for an honest, hardworking realtor who works because she has a passion for the job and the people, not the paycheck.
~ Daniel Beaver
She was fabulous. She was very responsive and knowledgeable as we were first time home buyers. I would highly recommend her to anyone looking for help with home purchasing.
~ jprecupero3
Sue is an agent that truly listens to what you are looking for in a new home and thens works hard to find it. She has been so good we have used her twice now in the past 7 years to find homes.
~ zuser20170115110204298
She was very nice, honest and knowledgeable. She was very easy to work with.
~ S.L.
I like Sue's personality and approach. She listened and understood my situation. She did not try to sell me anything that I didn't think was right for me, we just moved on until she and I found the right house. She stayed in touch with me and sent me listings which was very helpful. I would highly recommend Sue as a Realtor to anyone I know.
~ V.P.