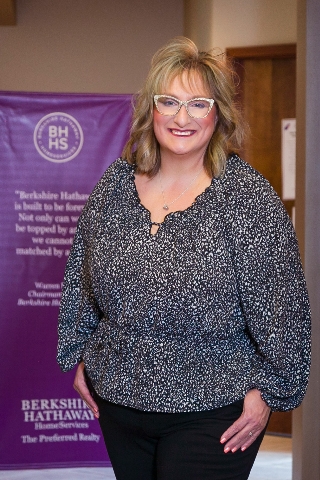 Rosemarie Stashko
Realtor®
East Regional Office

Call Agent
Text Agent

(11 reviews on Zillow)
www.rosemariestashkorealtor.com
Rosemarie Stashko's Client Testimonials

07/30/2020 - cj price
Bought a singleFamily home in 2020 for approximately $400K.
I started looking for a house during the pandemic because my lease was up mid-summer and would rather pay for a mortgage than rent. I wasn't even sure this was possible so I reached out to Berkshire and contacted Rosemarie. With her expertise and before my lease was up I found the perfect house that I've been living in for over a month now. Everything from the state covid regulations, to basic (dumb) questions a first-time home-buyer has, Rosemarie knew. She also saved me over $20,000 by helping me during the negotiations! I highly recommend using her as a realtor, especially for people who are new to buying houses. Anyway, her service was amazing and I highly recommend!

07/30/2020 - zuser20150908191053372
Bought a singleFamily home in 2020 for approximately $400K.
Rosemarie helped us buy our first home and made it an awesome experience! She sat us down and explained every step of the process and made sure we were comfortable with everything that was happening. She truly has her clients best interests at heart and will go to bat for you to make sure you get the best deal! Her expertise, attention to detail and her level of care for her clients makes her the best agent on the market!
Rosemarie is very knowledgeable and did a great job marketing and selling our home! She was very helpful to us during the whole process and we would recommend her to anyone who is interested in buying or selling their home.
~ K.M.
To be blunt she was very knowledgeable and you can tell she knows what to do and how to do it. She always had answers or found them. She was able to adapt to the changing times with covid-19 and managed our house sale and purchase with the constant curveballs! Very personable and tells it like it is! I valued her honesty and ability to give me pointers on what to change around the house to better present it to buyers and that made a big difference. Id recommend Rosemarie Stashko to anyone i know looking to sell or buy!
~ Michael & Melis Jasko
Very responsiveness and easy to work with!
~ R.C.K.D.
She priced it right. The house sold in 2 months and closed in less than a month.
~ Mary Ann Copeman
she was patient and always in contact with me to assist in anyway I needed.
~ P.C.
Rosemarie was great. Always worked around my schedule, recommended competent experts and made the whole transaction as smooth and fair as could be. I've always heard buying a house is a daunting task but Rosemarie made it a pleasure. Thanks again for everything and I would definitely recommend her and Berkshire to anyone looking to buy in the area.
~ I.A.M.
She was attentive, she listened to what I wanted on both my sell and buy. when she said she was going to do something she did it and explained everything thoroughly and gave me great advice every step of the way, even when I didn't think things would happen she stayed positive.
~ Joslyn Rankin
Rosemarie was great to work with! As first time home buyers we didn't know too much about the process and Rosemarie was very patient and answered all of our questions. She also made sure that we didn't miss any key deadlines and that we got all of our paperwork and other items done. We would chose her again and definitely recommend Rosemarie as an agent!
~ Robert Dubas
attentive, patient and persistent...
~ Pamela Titus
She made sure I understood everything I signed help me complete a difficult life desidsion and move forward
~ P.A.R.
Hard worker! She puts her customers first. Very knowledgeable and good at her job. Also friendly and a very nice person. She was available anytime I called.
~ N.M.

12/17/2018 - alenadme
Bought a Single Family home in 2018 for approximately $100K in Monroeville, PA.
Rosemary made my first home buying experience a positive one. She was always available for questions via phone or text, even during some off hours. When faced with some issues she worked with the seller's agent to resolve them in timely manner and still close on the house as soon as possible. Highly recommend!

12/09/2018 - architke827
Sold a Single Family home in 2018 for approximately $225K in Greensburg, PA.
It was a great experience working with Rosemarie. She helped us sell our home and buy a new home. Rosemarie was very knowledgeable and a very hard worker. I would definitely recommend her to anybody looking to buy or sale a home.

12/02/2018 - prairiemand
Bought a Single Family home in 2018 for approximately $100K in Trafford, PA.
Rosemarie was a really pleasure to work with and helped me find a good deal in a nice area. I am new to the Pittsburgh area, so her local knowledge was very helpful. She always got back to me quickly and made many helpful suggestions throughout the process. I will definitely employ her again if I am looking for real estate in the future.

12/01/2018 - JenWinfield
Sold a Single Family home in 2018 for approximately $100K in Trafford, PA.
Rosemarie is the best! She walked us through every step of the process from start to finish. She helped us get our home ready to sell and found us our new home. She sent new listing updates everyday and checked in constantly to see if we needed anything at all. If you need an agent, Rosemarie is the absolute best choice.

08/06/2018 - thudgin
Bought a Single Family home in 2018 for approximately $150K in Verona, PA.
Rosemarie, is very knowledgeable in the field. She works hard for you to ensure you find your perfect home. She responds very quickly and no question is too small. I am very grateful that I had her on my team and I highly recommend her to anyone looking to purchase a home. Thanks Rosemarie for helping me find my dream home!!

08/06/2018 - benjamindhimes
Bought a Single Family home in 2017 for approximately $150K in Dayton, PA.
Rosemarie was a phenomenal agent. Being young and new to the real estate world, my wife and I didn't know what to expect when making our first (and possibly last) home purchase. The browsing and sorting we tried to do on our own was quickly discarded when Rosemarie showed up more in-depth info. There really is no replacement for actual experience in something like real estate. When we did find the home we have since purchased, I wanted to jump right in, but luckily she played hard ball with the seller, and ended up having it work out much more fairly than it was originally listed. Have recommended already, and would gladly do so again!

08/03/2018 - zuser20140605124935828
Bought a Single Family home in 2017 for approximately $125K in Observatory, PA.
Rosemarie was a pleasure to work with. She was very accommodating and willing work around my hectic schedule. She showed patience and provided helpful advice during me changing my mind about search locations several times.The buying/closing was quick and went smoothly. I attribute Rosemarie's attention to detail and catching/correcting problems with finance/paperwork before they got worse to helping with this transaction.She has many quality professional contacts, from insurance and finance to inspections and environmental specialists. Who provided their respective expertise when needed.I will contact Rosemarie again when it's time to buy/sell again.

02/01/2017 - DanaLaunius
Bought a Single Family home in 2016 for approximately $100K in Pittsburgh, PA.
I loved working with Rosemarie! As a first time home buyer she really took me under her wing and made sure I was fully supported and well informed. Like your favorite Auntie.Rosemarie new exactly what kind of house I was looking for and showed me only homes in my interest and budget. In July 2016 my husband and I moved in to the perfect house!I've recommended her to others who have also had great success! You'll love her!