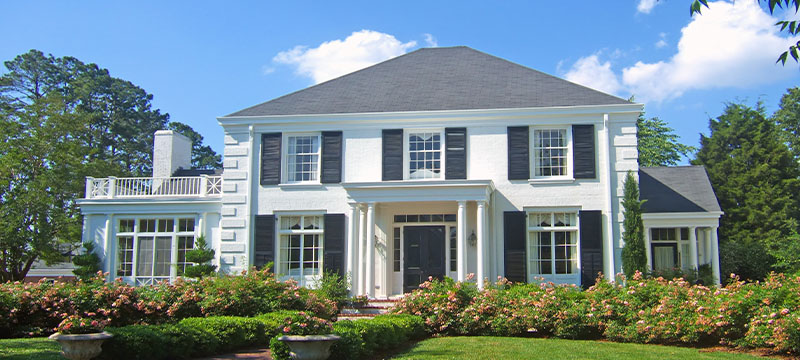 You've Heard About Pittsburgh's Hype, Now See the Home Styles, Too!
From the food scene to the sports teams to the career opportunities and more, there is no shortage of reasons to make "living in Pittsburgh, Pennsylvania" one of your future #GOALS. Since it's pretty obvious that the city will meet anyone's entertainment, recreational or cultural needs, we decided to showcase a few home styles that Pittsburgh also can boast about, because when it comes to real estate inventory, there is no shortage of home options for buyers in Pittsburgh, either!
Here are just five home styles that are easy to find in the Pittsburgh region:
The Colonial
Traditional Colonial homes found around the Pittsburgh region include two to three stories, a gable roof and a rectangular, symmetrical façade. Visually, on the exterior, there is often an emphasis around a Colonial home's front door. Inside, this home style may include a formal living room, dining room and family room on the first floor with bedrooms located on the second.
Can you picture yourself in this available Pittsburgh Colonial home?
The Cape Cod
Though they may historically have begun as simple, one-room cottages in the New England region, Cape Cod-style homes have evolved into much more and they're certainly available in the Pittsburgh region. They typically include one-and-a-half stories, a symmetrical design and a gable roof. Under a Cape Cod's roof, buyers will often find dormer windows with a second-floor living space inside.
Like that Cape Cod style? Check out this available Pittsburgh Cape Cod home.
The Tudor
The traditional Tudor home emerged out of medieval England and often included a stucco, brick or stone exterior, accented by half-timber detailing. Today's Tudor homes, which buyers can find in Pittsburgh, are marked by a prominent chimney, one or more gable roofs and long, narrow groups of windows. Inside a Tudor home, buyers may find intricate half-timber detailing and arched doorways.
Is this available Pittsburgh Tudor home for you?
The Ranch
Thanks to an open floor plan and their typical single-story nature, a Ranch home in the Pittsburgh region may be appealing to first-time home-buyers or those looking to downsize and simplify. Ranch homes are noted for cost-effective construction that often includes a low-pitched roof and a horizontal layout that sometimes separates living and sleeping areas on opposite ends of the floor plan.
Looking for a little simplicity in your living situation? This available Pittsburgh Ranch home may be for you!
The New American
In Pittsburgh, there truly is a home style for everyone and the New American embodies that mentality like a melting pot, sampling from various other home styles. Like many millennial buyers in today's market, the New American style often places emphasis on an open floor plan and typically favors a prominent garage. Though their construction may combine other popular home styles, New American homes utilize a mixture of materials and style to create a totally new and appealing look.
Like various aspects of several home styles? This available Pittsburgh New American home could be exactly what you're looking for!
Whether you're planning to buy a home in Pittsburgh for your career, the food, sports, culture or another reason, you can feel comfortable knowing that the region's got a wide selection of available homes that are sure to please any taste. So, will it be a Pittsburgh Colonial, Cape Cod, Tudor, Ranch, New American or another home style that will bring you to the Steel City?