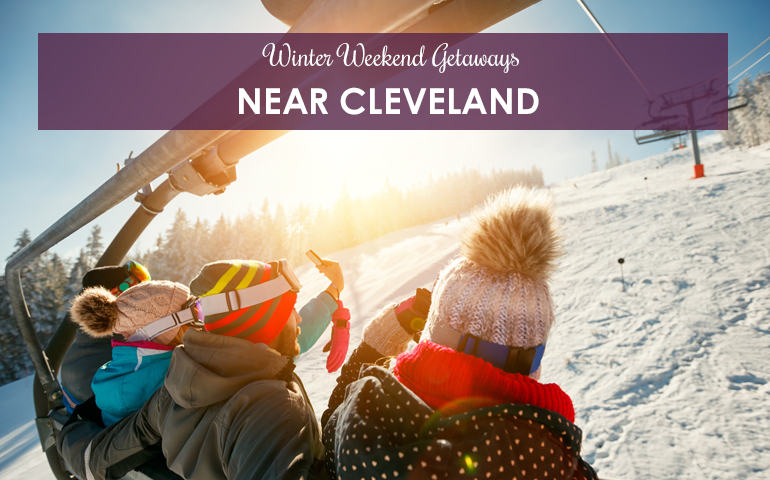 Winter Weekend Getaways Near Cleveland
Do the winter blues have you down this January? Good News, there are so many weekend getaways around Cleveland to get you out of the house and out of hibernation! From trying a great restaurant to visiting a new city, here are all the best winter day trips within a two-hour drive from Cleveland.
The Villas at Gervasi Vineyard
Gervasi Vineyard is truly a dream getaway for wine enthusiasts! Set on a 55-acre vineyard, the Tuscan-themed hotel makes you feel like you've escaped to another world — without having to leave the state. The villa suites are decorated with gorgeous Italian details, including rustic wooden doors, stucco walls, limestone floors and grand stone fireplaces. Spend your day enjoying wine tastings and spa treatments!
Take a Trip to Pittsburgh
Whether you are a sports fan or you love to try new places to eat, Pittsburgh is the perfect place for a weekend getaway! Catch a Penguins game at PPG Paints Arena or take a trip down to the Strip District and dine at one of the many restaurants. Pittsburgh has so much to do and history to see! While you're here, try visiting the Andy Warhol Museum and then head to lunch at Smallman Galley, the first food hall in Pittsburgh!
Seven Springs
If you are a thrill seeker you might want to check out Seven Springs for a weekend Ski Trip! Seven Springs is the perfect place to explore, relax and get away for a few days. If you enjoy skiing, the mountain features over 33 trails and terrain parks for you to enjoy. If you would rather relax indoors, the Trillium Spa is the perfect place to unwind for the day.
Chicago
If you are looking for somewhere a little farther and out of state, winter is a great time to check out Chicago – sure, it's cold, but attractions are less crowded and hotel rates come way down. Visit restaurants, museums, the theatre and of course — The Bean (Cloud Gate)!
Hocking Hills State Park
Have you ever dreamed of spending the night in a treehouse? At Hocking Hills State Park, you can! Based near the lush Hocking Hills State Park of Ohio, this enchanting tree house rental is located 20 feet high among the oak and maple trees, on five acres of private woodland near the town of Logan, making for a truly unique glamping experience. The treehouse offers guests the opportunity to disconnect from the stress of everyday life and reconnect with nature as it immerses flawlessly into its surroundings.
Make the most of the winter season by taking a weekend trip with your friends and family. Cleveland's surrounding areas have some of the best spots for a long weekend or quick getaway! Whether you want something adventurous or a relaxing day at the spa, there are so many options!