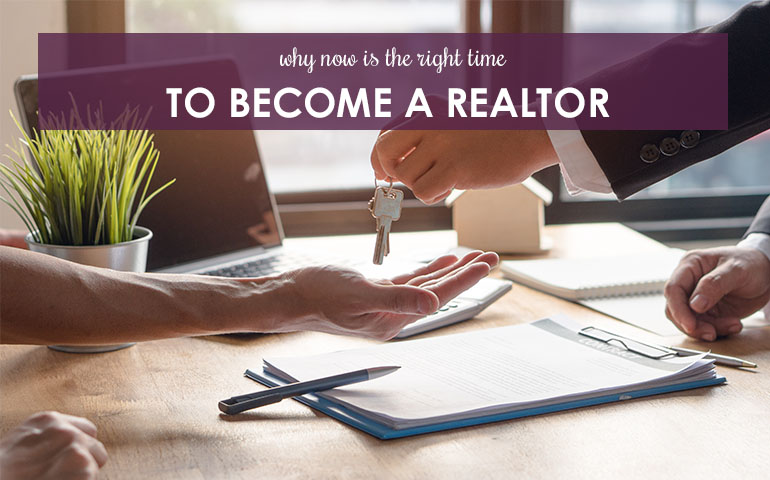 Why Now Is The Right Time To Become A Realtor
Are you looking for a career change or just starting out your career? If so, have you ever considered becoming a real estate professional? Being a real estate agent can be an extremely rewarding career that allows you to pick your own hours, interact with your community, have an uncapped earning potential, and help people find their dream homes. If you think becoming a realtor is the right career move for you, check out why now is the right time to become a real estate agent!
Flexibility
A lot of people have been craving the work from home flexibility that the pandemic has given. Being a real estate agent provides you with a lot of flexibility in your day to day schedule. Unlike most nine to five jobs, real estate agents are not typically at their desks all day or even working on the same transaction. Agents' schedules depend on what their clients need from them. When they are not out on a property tour, they are marketing themselves, making connections or planning their next listing. Another great part of being a real estate agent is that your office can be anywhere and you can make your own schedule. This is perfect if your children are still online learning or if you just want to stay in your pajamas!
Good Housing Market
There is no better time to become a real estate agent than right now! Since the COVID-19 pandemic has hit, the housing market has rebounded and is up and houses are hardly staying on the market. Also, people need the advice and guidance of realtors now more than ever. In this new real estate reality, homeowners and buyers have more questions and concerns about the process than in the past, and they are looking to professionals to be the guiding light that helps them through the maze of uncertainty.
Earning Potential
The earning potential of becoming a real estate agent is what draws a lot of people into the business. The amount of work you put into your career is exactly what you get out of it! One of the biggest perks of the business is that you get to be your own boss and have uncapped earning potential in your business.
Learning Opportunities
Markets, tastes, trends, demographics, and industries are constantly changing. The real estate profession isn't just about real estate. It also involves economics, regulations, construction, design, and marketing. Real Estate Agents are always learning new things and improving their skills and processes. If you enjoy learning and keeping up with trends, becoming an agent might be the right career path for you!
Now could also be a great time to study and take your real estate exam. The introduction of online courses will make becoming a real estate more accessible to fit in your busy schedule!
Do you think becoming a real estate agent is the right career choice for you? Berkshire Hathaway HomeServices The Preferred Realty has all the tools to help you succeed. Visit our career page to learn more about becoming a real estate agent.