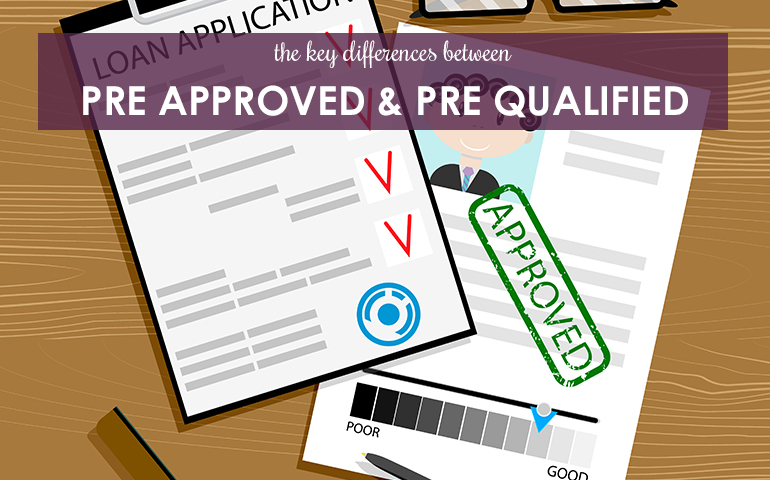 What's the Difference Between Preapproved and Prequalified?
Securing a mortgage can be a complicated and timely process. When you are preapproved or prequalified for a mortgage, you gain an advantage and have the opportunity to bid on the home you would like to purchase before buyers who are not as prepared.
So what is the difference between the two?
Prequalified

Prequalification is a general indication that you could be approved for a mortgage if you were planning on applying for one. It is one of the first steps you will take when you are looking to buy a home. Prequalification can be completed over the phone or online with the financial information that you will provide. Mortgage prequalification is less formal that pre-approval and will give you an estimate of how much you may be able to borrow based on the financial information you have provided the lender.
Preapproved
A pre-approval, however, is an in-depth examination of your finances by a lender. You can't just answer questions about your income in the pre-approval process, you'll have to prove it. Your lender will pull your credit history, verify your income and assets, and assess your financial situation, which requires extensive documentation regarding your savings and debt, such as credit cards and student loans. This information will be used to see whether you will be offered a loan, the maximum amount, and the loan's interest rate.
The following are some of the documents you may need to get pre-approval. While every lender is different, the following are good examples of what you will need to deliver to the mortgage provider.
Identification
Driver's license or U.S. passport

Social Security card or number

A copy of the front and back of your green card(s) if you are not a citizen

Credit history. Your lender will want to check your credit score
Employment verification
Recent pay stubs covering the last 30 days

W-2 forms from the last two years

Proof of any additional income

Last two years of personal federal income tax returns with all pages and schedules

Last two years of business federal income tax returns with all pages and schedules
Assets
Bank statements that prove you have enough to cover the down payment and closing costs

Last quarterly statements for asset accounts, including your 401(k), IRA, stock accounts, and mutual funds
If you have your documents readily available, you should be able to get a pre-approval that same day. Unfortunately, too much debt, previous foreclosures, and a low credit score can stall the process significantly from a few days to several months. A pre-approval will not hurt your credit score and does not mean you will be required to accept a loan if you decide now is not the time. If you receive a pre-approval, it is likely to expire in 60 to 90 days if you haven't completed the mortgage process.