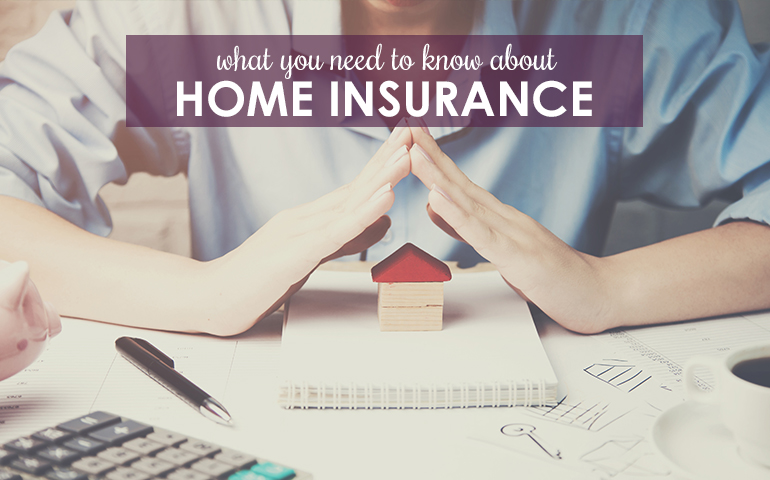 Five Things You Should Know About Homeowners Insurance
If you're new to buying a home this summer, you've probably been advised that you'll need to factor in the cost of homeowners insurance. While it is something you pay on a monthly basis, it typically is covered in your mortgage payment. For some homeowners, insurance can even be something that's out of sight—and out of mind—until you need it most.

Even veteran homeowners could stand a little lesson when it comes to homeowners insurance. So, for all homeowners, we've compiled a list of five basic things you should know about your home insurance.

1. It's a necessity. As we've briefly mentioned, when you apply for a mortgage, you're going to need proof of homeowners insurance. Not only does it protect your new home, property and personal belongings, but homeowners insurance also protects your lender. After all, as long as you're paying a monthly mortgage payment, your lender has a stake in your home too.

2. It will protect you when you need it. While homeowners insurance is a must-have, you may feel like you typically don't need it—until you do that is. Your insurance will protect you in case of major damage to your home, including storms, theft or other unfortunate instances. But you should also know that if you expect your insurance to protect you, you've got to do your best to protect your home on a regular basis. If your insurance provider finds that you're not properly maintaining your home, your claim for damages could be denied in certain instances.

3. Different policies protect from different types of damages. Where you live can affect the types of storms or natural disasters covered by homeowners insurance. For instance, flooding is typically not covered in a traditional homeowners insurance policy. If you live in an area prone to flooding, you may need to pick up additional insurance to protect your home and personal belongings. When you're selecting the right insurance for your home, be sure to review any exclusions in your policy, so you're not surprised in the event of a loss.

4. There are different types of coverages. In addition to policies that cover different types of damages, you should also know that homeowners insurance may cover different amounts when it comes to replacing things in your home. Depending on the type of coverage you select when you purchase insurance, your personal items could be replaced at market value, which accounts for depreciation. Or, you could have your personal property replaced at the full value of buying new. Costs for each coverage vary, so it is important to thoroughly review coverage options before selecting what is right for your home.

5. Some personal items may not be covered. When it comes to valuables like jewelry, electronics or firearms, your home insurance may never help you recoup their entire value—no matter what coverage options you select. Insurance policies may put a cap on reimbursements, which can leave you without your treasured items and with much less than they were worth.

These five facts are just the basics when it comes to homeowners insurance. Other factors, like your family pets, can influence your coverage and premiums. If you're applying for a home mortgage this summer, do your due diligence when it comes to your home insurance and shop around for the best coverage and rate you can find. Though you may not use your policy often, in the event that you need it, you'll be glad you did your homework.

This post is sponsored by PA Preferred Mortgage:
Pennsylvania Preferred Mortgage is a full-service mortgage banker and is a member of the Prosperity Home Mortgage, LLC family. Specializing in residential and refinance loans, Pennsylvania Preferred Mortgage offers a wide range of mortgage products, including fixed and adjustable rate mortgages, jumbo loans, Federal Housing Administration (FHA) and Veterans Affairs (VA) loans, and renovation financing. Learn more at www.papreferredmortgage.com.