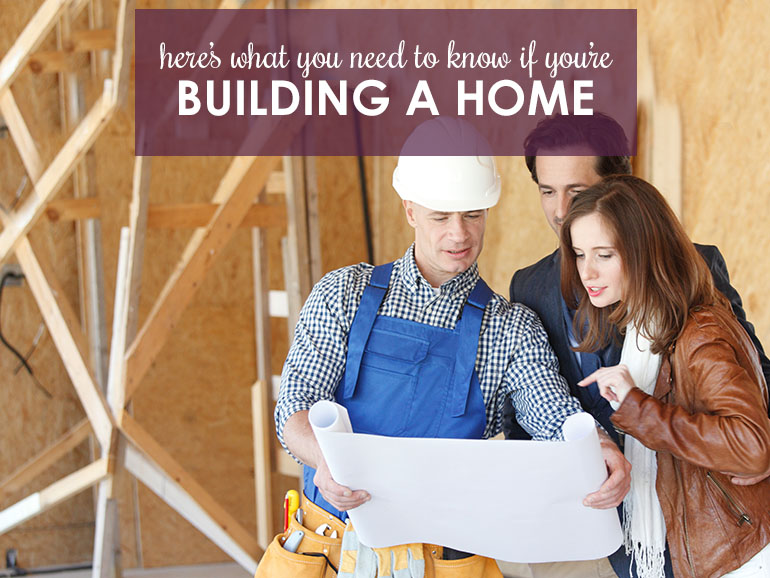 What You Need to Know Before Building a Home
If you're planning to build a home, you're going to want to pay attention! Here are a few things you'll want to know before building your home:
The build process can be long. When you're buying a home, you find the one you want, make an offer and if it is accepted, you go to close in a couple months or so. When you're building, you may tour through a model or two and take some time before deciding to move forward. Once you sign a contract to build, you could be looking at six months or longer before finally moving in.
You should expect delays. Your builder may give you an estimated timeframe for completion, but when you're relying on contractors, subcontractors, plumbers, inspectors and others - not to mention the weather - there are bound to be delays. Go into the process expecting some and you won't be disappointed when you face a few delays along the way.
Have a back-up plan. You may be given a projected closing date, but delays could cause you to move past that period. If so, you could be in a bind when it comes to moving. If you're renting, find out up front if you can extend your lease from month to month if the need arises. If you're selling, see if you can work with buyers to rent back your home until your new home is completed. You also could rely on family or friends. Just make sure that you have a plan.
You can make changes, but they may cost you. Building a home is a process that includes many choices. From paint colors to flooring, cabinetry and more, once you make your selections, they may be binding. (Insert asterisk here.) Typically, your builder will allow you to make changes during the build process, but understand that they may charge a fee.
You still need a real estate agent. When you're building a home, you're not going to go through the typical sales process where you're touring through various homes and competing against other buyers. However, that doesn't mean that you don't need a real estate agent. You will want someone on your side as you're selecting options, going through inspections and heading to closing. Your real estate agent will protect your interests along the way.
You may be able to negotiate the sales price. Your builder may give you a base price that adds up as you select different options for your home. Eventually, the builder will give you a final sales price. Understand that you may not have to settle for that quoted amount. It can't hurt you to try to negotiate the price of the home you're building. The worst that can happen is the builder may say "no." (Here is another place where a real estate agent can help!)
You need to pay attention to every detail. From the location and size of the laundry room to the locations and sizes of all of your closets, it is important to pay close attention to each aspect of your new home. Sure, matching walk-in closets in the master bedroom are a great feature. But, will you have enough closet space throughout your home? When you're building, it can be easy to overlook some things that seem small, but may impact your life in a big way on a day-to-day basis.
You have the right to be in the know - all the time! As you're building your new home, remember exactly that… it is your home! You can and should know what is going on throughout the process. Expect status updates from your builder, but do not be afraid to ask questions along the way!
The best advice we can offer on building a new home? Enjoy the process! When it is over, you'll have the custom home of your dreams! Get your home-building process started today!