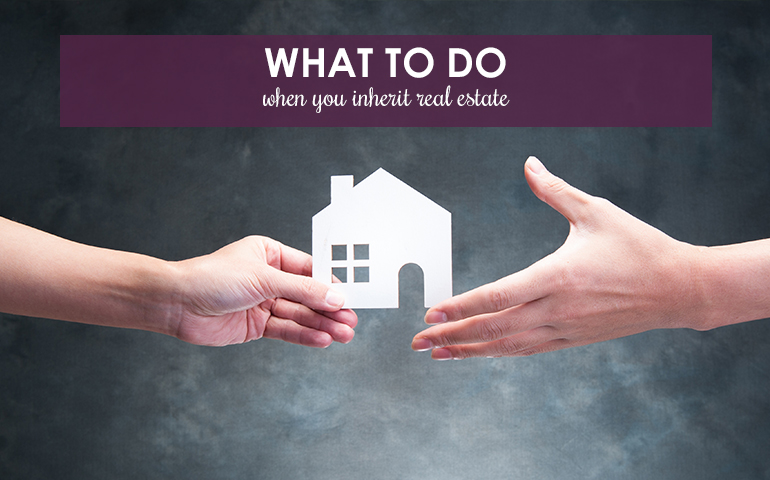 What to Do When You Inherit Real Estate
When you buy or sell a home, you are taking part in one of the biggest financial transactions you'll ever make. Though certainly rewarding from either side, the entire process can be physically, mentally and emotionally draining. But what happens when this duty is given to you? What happens when you inherit a property? Well, for starters, things can get even more emotionally-charged and complicated.

Basically, when you inherit a piece of real estate, you are faced with three options: you can move into it and make it your own; you can rent it out and become a landlord; or, you can sell it to someone else. Despite this limited number of options, deciding what to do with a property you've inherited is not always easy.

If you move in…
Depending on the type of home and location, if you decide to move into a home you inherit, you could be incurring homeowner association fees. You'll also be picking up property taxes and any maintenance expenses. If there is a current mortgage, you'll also be inheriting that payment.

If you rent it…
Like choosing to move into a home you inherit, if you decide to rent it out, you'll also be responsible for maintenance costs and property taxes. But those are fees you could pass on your potential tenants. If the home has a mortgage, renting it out could be a good way to cover the monthly payment.

If you sell it…
Selling a home you've inherited is a good way to avoid picking up an extra mortgage payment and taxes. But it does come with some upfront costs, including making any needed repairs. You also could be responsible for paying closing costs, real estate fees and capital gains taxes.

If you decide to sell a home you've inherited, you'll also need to make sure the homeowner's insurance and all utilities are paid. Finally, you should know that when you do sell the home, you could be taxed on any gains you've made on the home's price since the time you inherited it.

What information can help you decide which route to take when you inherit a property? Here are four questions to consider:

1. What role do my emotions play in this sale?
If you've inherited a family member's home, you might have many memories associated with the property. Sorting through those feelings could make your decision process even harder, but you need to consider how you'll feel – no matter which decision you make.

2. Is there a mortgage on the property?
If the property you inherit is not paid off, the mortgage payment could dictate what you decide to do with a home. Depending on the type of mortgage, you might be responsible for agreeing to the current terms, paying in full or selling the property. Alternatively, the home could be paid off by the estate.

3. Is the home in need of repairs?
As a rule, when you inherit a home, you should get a home inspection. Yes—even for your grandmother's home, where you spent a good part of your childhood. A home inspection will give you a good baseline for any repairs the home might need. Take this question a step further and hire a housekeeper to prep an inherited home for its next steps.

4. Are there any other stakeholders involved?
Sometimes a piece of real estate can be left to one or more siblings. In this case, it is not only one person's choice when it comes to deciding what to do with a home. Possible scenarios include one sibling buying out the other, or two or more siblings deciding to sell or rent the property and splitting the profits. Unfortunately, if you cannot agree on the best choice, you could have to take legal action to come to a compromise.

Have you recently inherited a home, but don't know what to do next? Let us help! Contact a trusted Berkshire Hathaway HomeServices The Preferred Realty agent today.