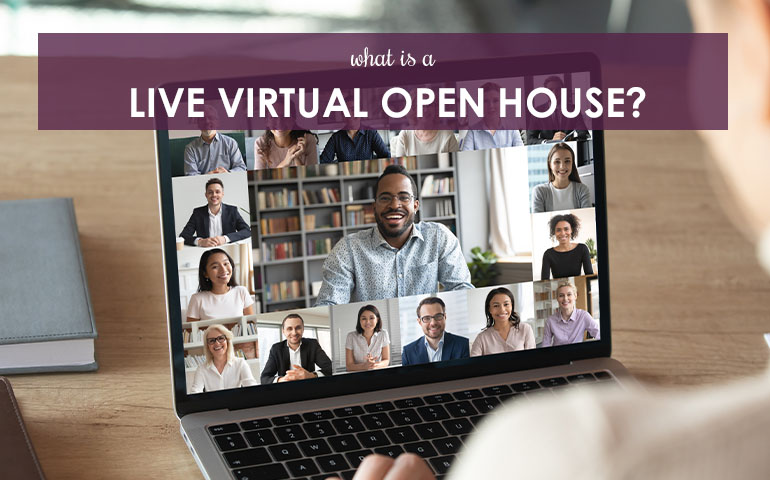 What is a Live Virtual Open House?
Even though Real Estate in our area is officially in the Yellow Zone today, we are still taking extra precautions to make sure that our sellers, buyers, and our real estate agents are safe when returning to work! With that being said, we have had to make some changes in the way our company does real estate, with Live Virtual Open Houses, quickly becoming the solution. So, what exactly is a Live Virtual Open House?
Picture a video tour around a property that sellers can interact with. These Live Virtual Open Houses are video tours that are held on Zoom. A real estate agent will walk around a property so any potential buyers can ask questions, see the property, and potentially even put in an offer!
Sellers
If you are wanting to list your home or already have a home on the market, there is no need to worry. People are actually spending more time online right now looking at homes, which could actually give your home more visibility! That partnered with a Live Virtual Open House tour, will give your home what it needs to be seen.
To participate in a Live Virtual Open House, talk to your real estate agent about getting everything set up.
Buyers
If you are a buyer in this market, you do not have to wait to tour a property or attend an open house! During these video tours, you will be able to sit down, virtually of course, with a real estate agent and tour the property you are interested in. You can ask questions about the property, view different parts of the home, and the best part is you don't even have to leave your couch!
To attend a Live Virtual Open House all you will need to do is visit ThePreferredRealty.com and click the button that says "Click Here to Virtually View Homes". From there, you will be presented with a list of homes that will be holding virtual tours.