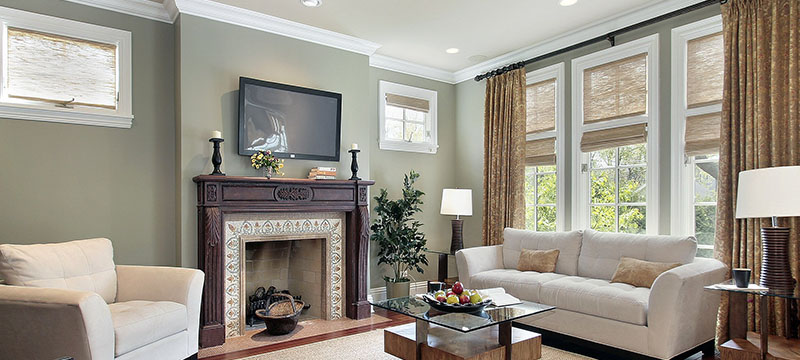 What are Fixtures vs. Personal Property?
Ooh, those curtains! And, did you see the plantation blinds?! They come with the house, right? Oh, they better come with the house!
During the home sale process, home fixtures like curtains and rods, blinds and even decorative chandeliers can be an unexpected bone of contention among both buyers and sellers. After all, a seller who took the time and money to add customized fixtures certainly may want to hang on to them. Similarly, a buyer who may have fallen in love with a home because of those very same fixtures likely would expect them to come along with the sale.
Since both buyers and sellers cannot possibly hang on to those fixtures that they seem to share an affinity for, where is the line drawn? Are items like blinds and ceiling fans fixtures in a home that automatically come with a sale or are the considered a seller's personal property that will be taken down, packed away and moved when a seller vacates a home?
By definition, a fixture is an item that is in a "fixed" position; as in, it's not moving! Of course, we all know that personal property can be picked up and moved from place to place. But, that still doesn't answer the argument over those coveted home items that seem to fall into a gray area when it comes to a home sale.
What gives an item a "fixed position" when it comes to real estate? Well, nails or glue can. So, those blinds or curtain rods that have been nailed in… yeah, they're coming with the sale. But, other decorative items like curtains, likely are not.
And, what about a home's appliances? They probably haven't been nailed into the walls, but surely a seller wouldn't think of removing items like refrigerators, washers or dryers, right? Don't they just always come with the sale? You may think so; but, frankly that is just not always the case.
When it comes to questionable home items like large appliances or even some mirrors, it is best to err on the side of caution… for both buyers and sellers. That means that sellers should confirm with their real estate agent before they ever even list their home – what items they intend to take with them when they move. That way, they can list exactly what comes with their home. If a buyer has any question about what is coming with a home, they need to put their question in writing when making an offer on that home.
Another way to avoid confusion when it comes to fixtures and personal property in a home sale is for buyers to make sure to complete their final walk-through. Since that typically happens on the morning of closing, they will be sure to see if any items they were expecting to be included in the sale are there or not. It may sound odd, but if a seller walks away with something that a buyer expected to be left behind, there may be a major hiccup in the closing process… yes, on closing day!
As with most things in real estate, transparency is the key to keeping a transaction running smoothly. If both buyers and sellers remain clear about their expectations of fixtures and personal property in the home sale process, neither side may need to give these things a second thought! However, if buyers and sellers just assume they know what will come with the sale and what will be left behind, that's when the lines can become quite blurred.
If you're planning to buy or sell a home and you have questions about what might be considered a fixture or personal property, talk with a real estate agent you can trust. Contact an experienced Berkshire Hathaway HomeServices The Preferred Realty agent today!