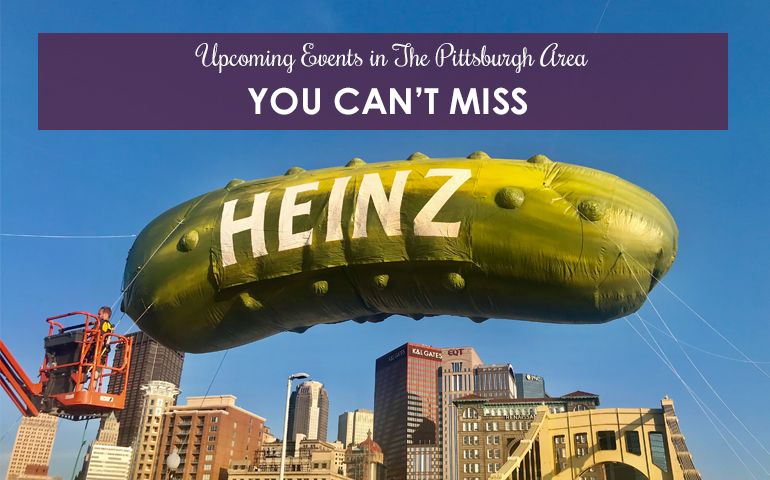 Upcoming Events in the Pittsburgh Area You Can't Miss
Summertime and the living is easy! Check out some of these can't miss events coming up in the Pittsburgh Area.
Picklesburgh (August 20-22)
Save the dates, Picklesburgh is back!
Picklesburgh has been named America's #1 Best Specialty Food Festival for two years running and rightfully so! Produced by the Pittsburgh Downtown Partnership (PDP), and presented by Heinz, Picklesburgh is a free, three-day, culinary celebration that goes beyond the dill pickle.
The Picklesburgh Festival is home to international dishes, local food vendors, live music, fun merchandise and more!
If you're a pickle-lover, you're not going to want to miss this year's Picklesburgh Festival.
For more information on this year's Picklesburgh Festival click here.
Greater Pittsburgh Food Truck Festival (July 16-18)
Get ready to taste the best food on four wheels! The Meadows Racetrack and Casino will be transformed into a culinary road map for The Greater Pittsburgh Food Truck Festival. Dozens of the region's best food trucks will be in attendance, plus live music and entertainment, craft beer and wine and tons of other vendors!
The Food Truck Festival is family friendly and free all weekend! For more information click here.
Saturday Night Market in Market Square (Every Saturday Night)
Market Square is where you want to be on a warm summer night. Lucky for you, the Saturday Night Market is back!
The Saturday Night Market offers artisan goods from some of Pittsburgh's most creative independent vendors selling artisan crafts, fashion, art, jewelry, photography and small batch food. Join in on the fun any Saturday night throughout the Summer!
For more information on the Saturday Night Market click here.
Pittsburgh Vintage Grand Prix international Car Show (July 24-25)
Head to the Pittsburgh Vintage Grand Prix for a full day of family-friendly automobile themed activities in Pittsburgh's Schenley Park. Thousands of classic, antique and exotic vehicles fill the Schenley Park Golf Course for the International Car Show. If speed is more your thing, watch 150 vintage racers compete on the track all weekend long!
For more information click here.
Millvale Music Festival (August 6-7)
Head over to Millvale for a music-filled weekend! The Millvale Music Festival is hosting 250 musical acts on 26 stages, visual artists, performance artists, spoken word, comedy and more! This free event goes all weekend long and showcases local musical acts of many genres at the fun and unique venues of Millvale.
For more information click here.
The Original Pittsburgh Taco Festival (Sept 11 from 12-7pm)
All of the best Pittsburgh taquerias in one place? Sign us up! September 11th the The Original Pittsburgh Taco Festival returns to the Strip District Terminal.
This fun, family-friendly event celebrates the community and is produced with the support of the Latin American Cultural Union and The Pittsburgh Hispanic Development Corporation, and a portion of proceeds will directly benefit these organizations.
For more information or to purchase tickets click here.
Pittsburgh Pierogi Festival at Kennywood (Sept 26 from 1-6pm)
The annual Pittsburgh Pierogi Festival features our city's favorite food from over two dozen restaurants, chefs and pierogi purveyors who will be serving up hot and delicious pierogies, creative pierogi-inspired dishes, dessert pierogies and more!
As you make your way through Kennywood Park, hop on some classic rides and shop the pop-up Pierogi Marketplace for everything from pierogi t-shirts and clothing, to jewelry and pottery, to Pittsburgh memorabilia.
The party goes on from 1pm-6pm, with live music, open beer gardens for guests 21+, and select Kennywood games and favorite food vendors who will be joining in the fun!
For more information or to purchase tickets click here.

Prepare for your best summer yet! Let us know what event you're excited for!