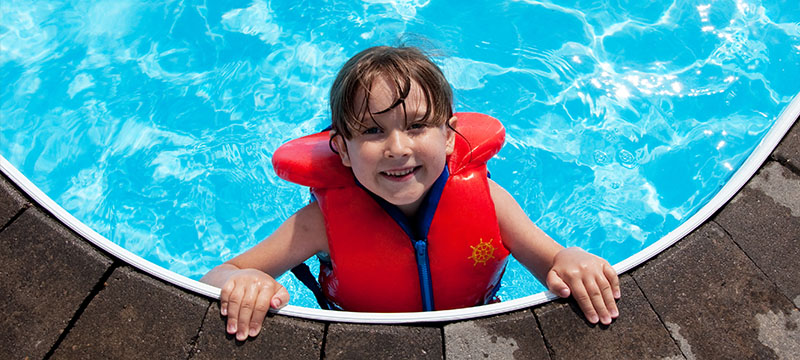 Today's Hot Summer Topic? Home Safety!
Now that we're in the heat of summer, it is time to take a look at everything we're doing to keep our homes safe during these sweltering months. After all, summertime is full of outdoor fun for kids of all ages; and, it's also vacation season for many of us, too. For that reason, we've compiled a few tips for at-home and on-vacation summertime safety.
Let's begin with a look at five at-home areas for summertime safety concerns:
The Back Yard – It's the place where so many summertime happenings… well, happen. The back yard is usually the perfect place to gather for a BBQ or even a friendly game of volleyball or cornhole. So, before you invite the entire neighborhood over, it is a good idea to check your back yard for potential hazards. Are there any holes that someone could trip over or large rocks that may have found their way into your yard during the winter? Routine lawn maintenance in the back yard should keep it safe for summertime fun all season long.
The Grill – Since it is BBQ season, grill safety should be at the top of every home cook's ingredient list. Of course, you want to keep your grill a safe distance from the side of your home; but, you also want to make sure that children and pets steer clear of the grill when in use. For further summertime grilling safety, it is a good idea to keep a fire extinguisher with your grill… even if Mom loves that burger extra well done.
The Toys – Is your yard the one where all of the neighborhood children run to for playtime? Whether it is your children's treehouse, play set or trampoline that attracts what seems like the entire neighborhood to your yard, safety is a primary concern with all of these summertime toys. Beyond making sure that they're all structurally sound, you also need to make that each child using them clearly knows the rules and regulations that go along with the fun. Proper supervision during playtime goes without saying.
The Fire Pit – Who doesn't love making s'mores around the fire on a quiet summer night? Since an open fire is dangerous to every home and person around, safety is a must during your summer campfire nights. Again, a watchful eye over children and pets is needed and it is not a bad idea to keep a fire extinguisher near your fire pit, either.
The Pool – Why is it that one of the best ways to keep cool in summer heat also can be the most dangerous? If you own a pool, your home is a likely a hot spot for friends and family to stay cool. In addition to making sure that everyone follows simple pool safety rules like "no running or jumping," you may want to consider keeping extra floatation devices around for your own peace of mind.
Now that we've covered most of the bases when it comes to at-home summer safety, let's not forget just how important safety remains even when you're not at home. Here are five tips for summer home safety while you're on vacation:
Enlist Some Help - When you're planning your summer vacation, plan to ask a friend or neighbor to check on your home while you're away. Share your vacation plans only with someone you trust and ask them to keep a watchful eye over your home in your absence. Friends can routinely stop in to make their presence known or you could ask a neighbor to park in your driveway on occasion to make it seem like someone is there. If you don't want to ask a friend or neighbor to pick up your mail, suspend your mail service before you leave.
Ditch the Spare Key – You may think that under the door mat or in one of your potted plants is the best place to hide your spare key, but potential intruders may know that as the oldest trick in the book. Do your mind a favor while you're away and just ditch that "hidden" outdoor key. Remember that friend or neighbor who you've asked to stop over in your absence? Just give them your spare key.
Stop Sharing So Much – Checking in, tweeting and updating your Facebook status from every rest stop is not only being social media sloppy, it actually can be dangerous. We know that you consider everyone on your friend list to be as good as gold, but your online bulletin of your every vacation move may only be annoying your friends and alerting any dishonest readers that you're away. Keep it safe and share your vacation details and photos after you return.
Use Your Alarm Service – You know that monthly fee you pay to have your home monitored by ADT, Guardian or your other favorite alarm service? Use it for all that it's worth. Alert your alarm service provider that you'll be out of town, so that they know to send help immediately if your alarm goes off. Of course, this request may change a bit if you've got a friend or neighbor regularly stopping in, but it can't hurt to put your alarm service on high alert!
Leave on a Light (or Two) – Just because you're away this summer, that doesn't mean that you have to leave your home in the dark. Buy a couple of automatic timers and have a few lights turn on and off while you're on vacation. It may deter would-be intruders from stepping inside; and, at the very least, it would allow a passer-by to see if something were wrong while you were away.
Now that you've addressed some of the top summer home safety concerns, there is just one more thing left to do this summer… relax and enjoy it!