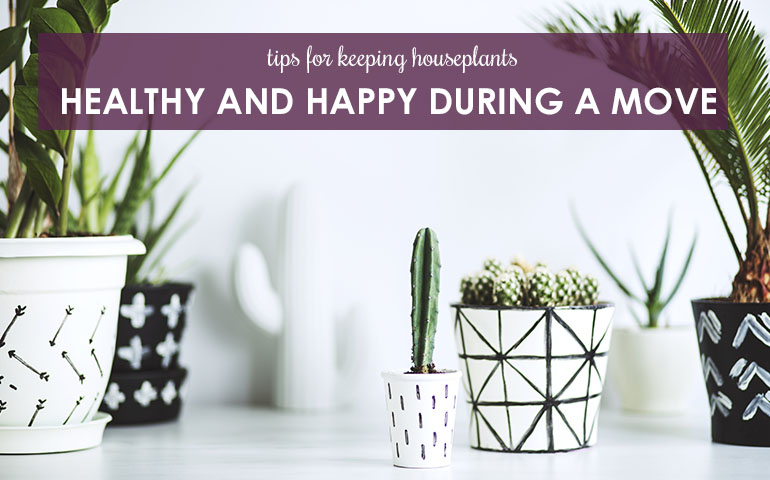 Tips For Keeping Houseplants Healthy and Happy During a Move
It's hard enough making any big move, but add in actual living things like pets and plants and the stress of moving gets even tougher to handle. You might already be thinking about how to keep pets happy during the journey to a new home, but have you considered the well-being of your house plants and flowers? Here are some great strategies for making sure your plants survive the long trip to a new home and stay happy and healthy along the way!
Prep Your Plants
Before your big move, prepping your plants is important in maintaining happy plants! Be sure to trim any brown leaves that might affect the health of your plant. You will also want to remove any dust or insects from the plant leaves to make sure that it is extra healthy for the big move!
Repot Your Plants
After you prep your plants for the move, it's a good idea to repot your larger trees in plastic or a lighter container than the planter it is currently in. This will not only make it easier for the movers to carry, but it will also make the trip a lot easier.
This is also a great time to evaluate the health of your plants! If your plants are getting too large for their current pots, you can easily repot them into larger planters when you get to your new home! Some signs that your plant is ready for repotting are:
New leaves appear slowly and are very small compared to older leaves

Soil dries out very quickly or water runs down the inside of the pot without soaking in

Roots are growing out through the drainage holes or are appearing above the soil's surface in the pots

Roots are so tightly coiled that when you pull the plant from the pot, you see all roots and no soil
Ship Them If Needed
If you are having a hard time fitting your house plants in the car or moving truck, shipping them is always a good option. This option will need a bit of preparation but will keep your plant healthy and happy in the long run.
To get your plants shipping ready, remove plants from their pots, trim down the roots and wrap the root ball in a wet towel and then plastic. Then, secure the whole plant in a sturdy new box with an ample amount of newspaper and bubble wrap. Be sure to write "Live Plant" or "This End Up" on the box so delivery services will take extra precautions to keep your plant alive!
Propagate Your Plants
If you do not think you will be able to bring your houseplants with you, you can always propagate a piece of the plant for yourself to take to your new home! Then you can leave your plants at your old house as a housewarming gift, or give them to friends and family!
For some people, house plants are just as an important part of the family as pets! With a little extra love and attention, bringing your houseplants to your new home should be a seamless process!