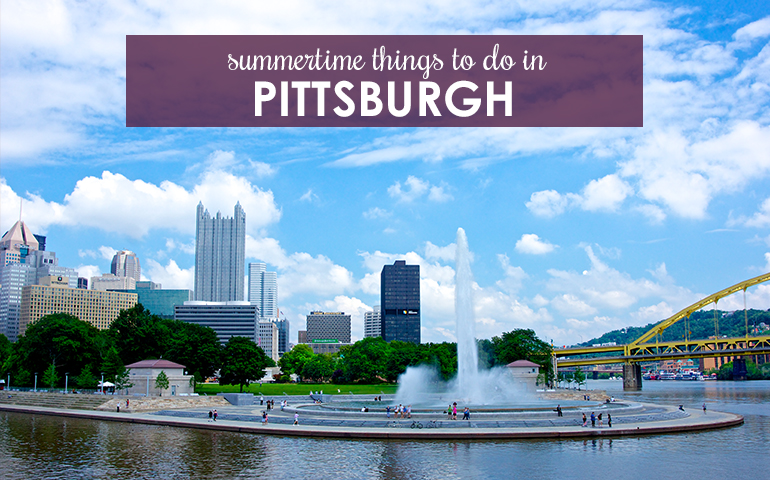 Stack Your Calendar With Summer Fun in Pittsburgh
School's out for the summer, so you know what that means… it's time to fill your calendar with fun activities. If you live in or around the city of Pittsburgh, you're in luck! There is never a lack of fun for the whole family when it comes to the Steel City.

For Pittsburgh residents, or people who are planning to move here, or those who are just visiting this summer, here are a few things to see and do around the city:

Catch a baseball game
It's a summertime staple, right? America's favorite pastime is alive and well inside Pittsburgh's PNC Park. Whether you're a longtime fan of our hometown team or you're just interested in some summer fun, you should catch a few innings inside this beautiful ballpark. Root for the Buccos, cheer on the pierogis or simply enjoy an afternoon of entertaining baseball!

Take in nature
During summer, there is no lack of nature to impress you in Pittsburgh. From the Pittsburgh Zoo & PPG Aquarium to Phipps Conservatory to the National Aviary, you can see every animal and awe-inspiring plant you desire. On top of that, the city offers acres of recreational parks – oh and three rivers that you can boat on or tour around too. It's not just pavements and skyscrapers in Pittsburgh!

Experience a thrill
For over 100 years, Pittsburgh's Kennywood amusement park has been thrilling residents and visitors. Roller coasters with daring drops and perfectly sliced potatoes with dripping toppings are just a few of the reasons why this park keeps fans coming back year after year. When the summer sun is too much to bear, Sandcastle offers a splashing escape from the scorching heat. You won't be disappointed if you try these historic amusement parks this summer.

Branch out with STEM or the arts
You don't have to stop learning or exploring just because school is out for the summer. From the Carnegie Science Center to the Children's Museum to the Mattress Factory and more, Pittsburgh's museums are sure to spark your mind on topics that range from robotics to history! And the inspiration doesn't stop there. Pittsburgh's cultural district will show you a good time – every time! From comedy shows to concert halls, there are always performing arts that impress in the city. Check out what's on stage at the Benedum Center, Byham Theater, Stage AE or another great Pittsburgh venue this summer.

Try something new
Even longtime Pittsburgh residents can find something new and exciting to do in Pittsburgh this summer. Each summer, the Anthrocon convention takes over the city for a few days of furry fun. If this year's "Movie Monsters" theme doesn't match your tastes, the city's culinary scene surely will. From fine dining to trendy brew pubs, you could find a delicious new spot to try around the city every weekend this summer.

As you can tell, there is no lack of excitement or entertainment in Pittsburgh during summer months. If you live in the city, enjoy a staycation. If you're just in for short visit, beware: you may be convinced to move here in no time at all! Either way, be sure to get out and enjoy some sun and fun in Pittsburgh this summer!