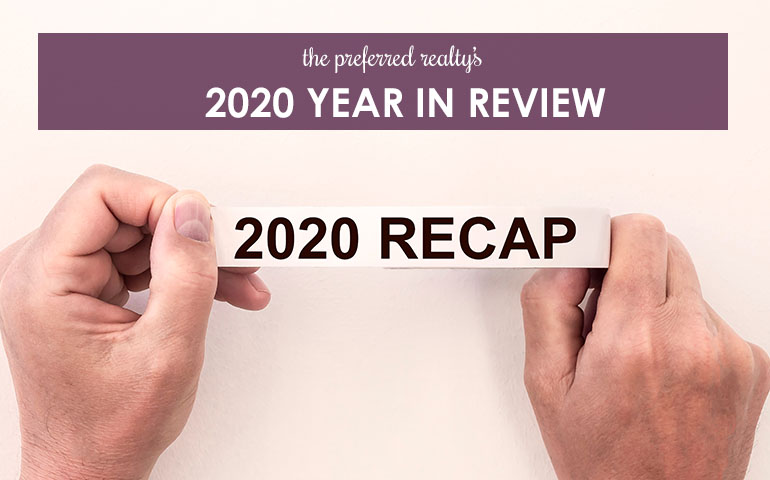 The Preferred Realty's 2020 Year In Review
2020 was an interesting year, to say the least. What started out as the roaring '20s, quickly turned into a year we would never forget. Despite challenges and changes, as a company, we were still able to shift and come out on top. From growth, innovation, and achievements, let's go through a recap of everything this year as a company!
Achievements
At the beginning of March, the company kicked off the year with the annual awards banquet at the Rivers Casino in Downtown Pittsburgh. The company got together and celebrated the success of 2019. As a company, we achieved more than $3.4 billion in sales volume and had 16,596 in closed transactions. We also celebrated the top producers for the year! Shout out to:
Michael Reed, John Shutey & Joe Yost of the City of Pittsburgh Regional office led as top producers with 280 units sold, winning the Chairman's Circle Diamond Award.

Baker- Robb Team of the Mt. Lebanon Regional office with 202 units.

Rich Dallas & Sharon Fincham of the Peters Township office with 142 units.

Pierre Khoury & Gia Albanowski of the Cranberry Township Regional Office with 108 units.

Scott Ludwick of the Greensburg Regional Office with 186 units.
(Pre Covid)
Innovation
As a company, we were thrown a lot of curveballs in 2020, starting when the real estate market got shut down due to COVID-19. Open houses were not allowed to be performed in person, so thinking on our toes, we created virtual open houses. These Live Virtual Open Houses were video tours, held on Zoom. Our real estate agent were able to walk around a property so any potential buyers can ask questions, see the property, and potentially even put in an offer! These live open house events are still available for agents to do as case numbers are rising.
Keeping with the theme of going virtual, the company also hosted the first-ever Virtual Regional Convention. This revolutionary three-day event was held via Hopin and gave agents the opportunity to learn and grow within the company from the safety of their homes. The convention was a huge success with over 85% of agents and employees attending the event!
(Tom Building Swag Boxes for the Regional Convention)
Growth
As a company, we grew a lot this year. From acquiring a new office to bring in new agents, the company kept getting bigger! In December of this year, we joined forces with Stouffer Realty in Ohio and added over 200 agents to our family. This year we also welcomed over 315 new real estate agents to the company as well as had a record-breaking year in sales!
(Stouffer Grand Opening Event)
Although 2020 was not the year we expected it to be, we still had a lot of great memories to look back on as a company. We are confident that 2021 will bring even more growth, success, and positive memories. Cheers to 2021 and a healthy and happy new year!