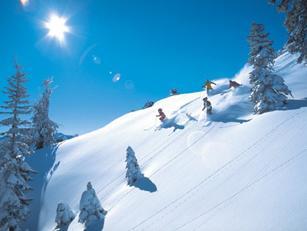 The Laurel Highlands: Southwestern PA's Scenic Triple-Threat
If you're searching for vacation property or a new home that's not too far from the city, look no further than Southwestern Pennsylvania's Laurel Highlands. Just 55 miles from downtown Pittsburgh, the Laurel Highlands are a quick commute away, along Interstate 376 and the Pennsylvania Turnpike. Comprised of Fayette, Somerset and Westmoreland counties, the Laurel Highlands truly are a triple-threat of scenic attractions, outdoor fun and historic culture.
The area is home to Pennsylvania's highest mountains, the Allegheny Mountains; so, it's no wonder why hiking, hunting and mountain biking are some of the region's hottest attractions. But, that's just the tip of the outdoor excursions that the Laurel Highlands have to offer.
Eight Pennsylvania state parks stretch across the region, including Ohiopyle State Park, which showcases the challenging white waters of the Youghiogheny River, and Laurel Ridge State Park, which features 70 miles of hiking trails. You can also find Pennsylvania's largest cave at the incredible Laurel Caverns.
Four mountainous resorts complement the natural beauty of the Laurel Highlands. Each winter, skiers, snowboarders and snow tubers pack the slopes at Seven Springs Mountain Resort, Hidden Valley Resort and the Laurel Mountain Ski Resort. Nemacolin Woodlands Resort caters to finer tastes with great golf, a relaxing spa and the July 2013 opening of the Lady Luck Casino.
A valiant, young George Washington once took a gamble in the region; now, visitors can see rich history among several French and Indian War battle sites. The Laurel Highlands also honor the heroes of September 11, 2001 at the Flight 93 National Memorial and commemorate the rescue of nine coal miners at the Quecreek Mine.
Frank Lloyd Wright's Fallingwater is an artistic and architectural masterpiece within the region, which also holds six unique vineyards. From adult tastes to fun for the whole family, the Laurel Highlands are also home to the Living Treasures Animal Park and Idlewild Park, the #1 kid's park in the world. You can even catch the Pittsburgh Steelers in the Laurel Highlands at their Latrobe summer training camp.
With unending outdoor activities, it's good to know the Laurel Highlands are not lacking delicious dining options to fuel any and every excursion. The Country Pie Shoppe and Sweetie's Bakery will satisfy any sweet tooth. The Georgian Inn of Somerset and Chef Dato's Table provide fine dining cuisine and no one can resist the great food and spirits at Hops Pub and Carol & Dave's Roadhouse.
Without question, the Laurel Highlands are rich with beauty, culture and family fun. Search available homes in the Laurel Highlands now.