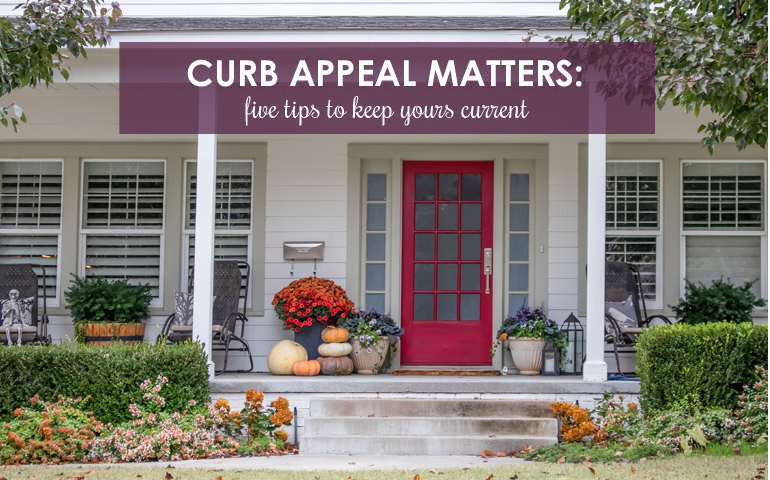 Curb Appeal Matters: Five Tips to Keep Yours Current
By now, you've surely put away your witches, skeletons and other scary Halloween outdoor decorations. While they were fun for welcoming neighborhood trick-or-treaters, you can't just keep your spooky things up until you're ready to deck your halls for the holidays.

If your home is on the market, you probably are particularly conscious of what you're showing potential buyers when they approach your home. And this is certainly for good reason. After all, as the saying goes, you never get a second chance to make a first impression.

We're talking about curb appeal, which many homeowners may identify as their front porch and landscaping décor. However, in today's real estate market, curb appeal has expanded to much more. Today's home buyers begin their searches online. So, a seller's curb appeal can start with their listing photos—which showcase a home inside and out.

That's right; in many cases, gone are the days of buyers just driving by potential homes and stopping in for a tour. Oh, buyers are still perusing available homes. But, instead of just dropping in, they are dropping opinions about what they see online.

Curb appeal has expanded from merely your front door to your online profile. But its importance does not stop there. Your listing photos may give potential buyers a peek into your home, but seeing is really believing when it comes to buying a home. The look that you present online should be what is portrayed outside (and inside) your home too.
How can you make sure that potential buyers are getting the best first look at your home? Here are five tips to make sure you address all important areas when it comes to curb appeal this season:

1. Focus on fallen leaves.
In fall, curb appeal is less about mowing your grass and more about raking any leaves that may be laying around. Keep your sidewalks and driveways clear from autumn's fallen debris. While you're at it, look for cracks that might appear in both areas too. Resealing your driveway before listing is an easy and inexpensive way to enhance your curb appeal.

2. Number your outdoor cleaning activities.
This might sound like a simple tip and could be something you'd easily overlook. But you don't want buyers to overlook your home. You need prospective buyers to be able to find your home, right? Make sure your house number is clearly visible for them! This could mean getting out the power washer to spray down siding around where your house number is marked. This also could mean freshening up your doorstep or mailbox, so that your house number is crisp and clearly marks your home.

3. Bring in a trusted critic.
Here's where you should be focusing on indoor and outdoor curb appeal. Before you take listing photos, ask a friend, family member or your real estate agent to come over and give you a brutally honest opinion of your home. Often, we grow accustomed to our layout and décor and might not realize that we could be dissuading potential buyers. Take the opinions of someone you trust, so that you present your home in the best light from the start.

4. Leave the lights on.
When your home is on the market, you should worry less about your electric bill and focus more energy on giving your home an attractive glow. Extra lighting will not only make your home appear more spacious but with fewer hours of daylight during fall and winter, additional lighting will also make your home safer for buyers who want to tour during evening hours.

5. Let the Joneses chase you.
In many neighborhoods, there is often one home that always seems to be on top of outdoor maintenance and décor. If this is not typically your house, do your best to be sure that it is – at least while your home is on the market. You want prospective buyers to notice your home above any others that might be listed (or not) on your block. Keeping up with your curb appeal is one way to stand out and impress buyers.