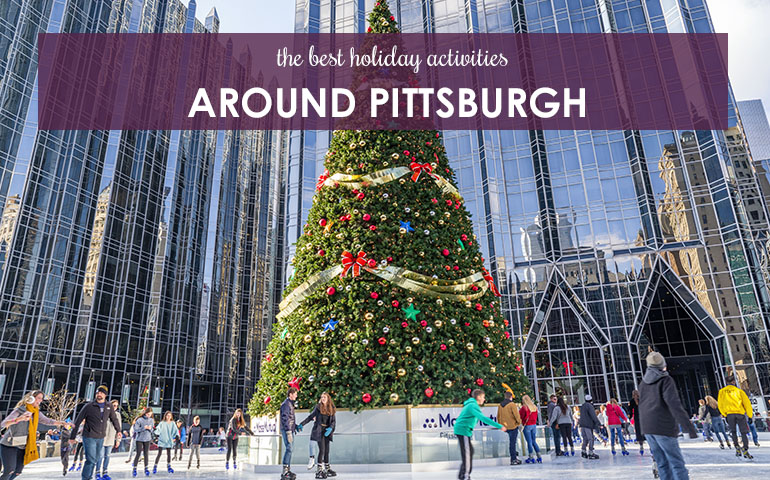 The Best Holiday Activities Around Pittsburgh
It's the most wonderful time of the year, especially in Pittsburgh. The city and surrounding areas are filled with holiday activities for all ages to participate in!
Go Ice Skating in Market Square
This holiday season, make sure you stop by market square and go ice skating at the MassMutual Ice Rink! The ice rink is open from November 22nd - March 1st. Admission is $10 for adults and $9 for children. Ice skates are also available to rent for $4 a person. While you are in Market Square make sure to stop by the Holiday Market and Santa's House to shop around or for a cup of hot chocolate!
Visit Phipps Conservatory's Holiday Light Show
One of Pittsburgh's favorite holiday traditions is back from November 23rd- January 6th. The holiday lights at Phipps Conservatory and Botanical Gardens. For 126 years, Phipps has been a family favorite holiday tradition for families in Pittsburgh. This year, Phipps will feature over ten acres of gardens and lights to explore! Tickets are $19.95 for adults and $11.95 for children. Be sure to purchase your tickets in advance, you won't want to miss out on the holiday lights!
Have a Drink at Miracle on Liberty
It's back again for the 2019 holiday season! Pittsburgh's favorite Christmas pop-up bar will be back in two locations. The first location will be Miracle on Liberty, located at 717 Liberty Avenue, in the Clark Building. And the second location will be Miracle on Carson, located in the former Lava Lounge at 2240 East Carson Street. Miracle on Liberty will open on Friday, November 29th, and will be open every day (including Christmas!) through Tuesday, December 31st from 5:00 p.m. to 2:00 a.m with a holiday-themed cocktail menu.
Show off your Trivia Skills at a Holiday Trivia Night
Do you love The Office? Are you a Home Alone expert? Now is the time to show off your trivia skills at Zone 28. On Tuesday, December 17th you can partake in Dunder Mifflin's legendary Christmas parties. So keep your eye on the iPod, don't get your Benihana waitresses confused, and be good for Belsnickel. On Tuesday, December 10th, Home Alone trivia night will be in full effect. Grab your friends this holiday season for a fun night of trivia!
Experience one of the largest light shows in Pittsburgh this season. Lumaze will wow you with interactive light gardens, illuminated structures, delicious food, festive drinks and daily live entertainment all under the twinkle of a million lights. Be sure to buy your tickets in advance, it is expected to sell out! Lumaize is open from November 23rd- January 4th with tickets 20% off now!
Check Out Taste of Lawrenceville's Miracle on 41st Street
On Sunday, December 8th head over to Lawrenceville for Miracle on 41st Street. Taste of Lawrenceville is throwing a celebration of all things Lawrenceville to celebrate the holiday season! Tickets are free, just register via Eventbrite and pay for what you wish to try at each vendor booth. There will be food, a live band, photos with Santa and more!
Go See The Nutcracker at The Benedum Center
A winter wonderland awaits at Pittsburgh Ballet Theatre's The Nutcracker! This Christmas favorite features five lavish scenes, dozens of dancers and over 150 costumes making The Nutcracker one of Pittsburgh's most cherished holiday traditions. Tickets for The Nutcracker start at just $28.
There is something for everyone to do this holiday season in Pittsburgh. Whether you want to test your trivia knowledge or enjoy the botanical gardens at Phipps Conservatory there are so many ways to spread Christmas cheer and have fun this winter!