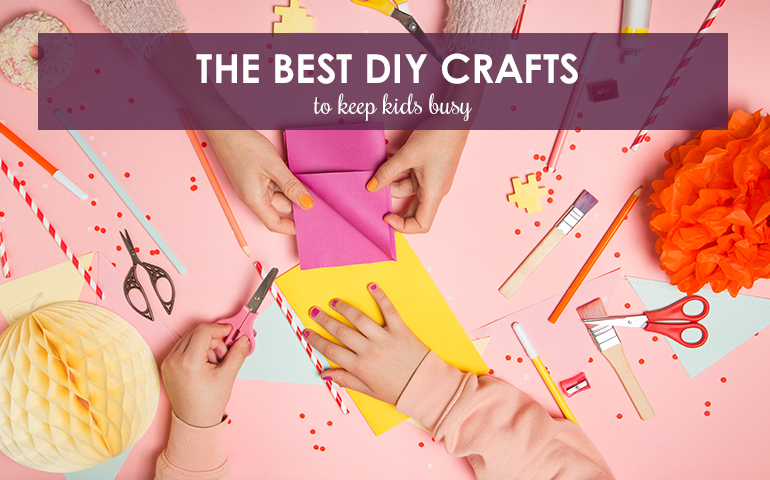 The Best DIY Crafts to Keep Kids Busy
Most of us are going on week two of the schools being closed due to CVOID-19. If you are running out of ideas to keep your children busy, you are not alone. That's why we have put together a list of the best DIY crafts to keep your kids entertained and happy during their time off school!
You probably have empty tissue boxes lying around the house already, put them to good use by making a tissue box monster! This craft should take about a half-hour to complete and is great for kids preschool-aged and up. When you're done, use the extra pom-poms to "feed" the monster. Turn it into a minute-to-win-it game by seeing how many pom-poms players can toss into the monster's mouth in 60 seconds.
You'll probably have to help with the sewing on this one, but the kids can help design and craft their own slip-on, slip-off mermaid tail for pretend undersea adventures. With your help, of course, this could be a great learning tool for your children on the basics of sewing. This is something that they will love even after the quarantine.
.
This three-ingredient recipe is a little bit art, a little bit of science. The paintable foam (which kids can pipe out of plastic bags) hardens overnight into super-cool, puffed-up masterpieces. Making foam paint is as easy as it gets. You've got your shaving cream, your craft/school glue and your food coloring – that's it! Have your kids draw an outline of the craft they want to make and then use the foam paint. This is a craft that children of all ages will enjoy, it might even be fun for parents to partake in the craft!
Transform a windowed pencil case into an armchair treasure hunt with this no-sew project. Fill the case with poly pellets to obscure the treasures. This is a great craft and time-filler for children of all ages. You can make the game more complicated by adding in more things to find for older children.
This explosive science experiment (disguised as permission to make a mess) is a lot more palatable when contained in a glass dish. Add food coloring for colorful lava. Parental guidance is suggested in making the volcanoes. Make sure to have paper towels on hand, this could get a little messy!
Dump out the laundry baskets for an indoor arcade game. Launched off a cardboard ramp, plastic balls score major points with bored kiddos. You could even elevate this craft by creating a full scale carnival for your children with items around the house. Then make certificates for prizes like an hour extra of tv or a break on one of their daily chores!
Just because you are stuck inside doesn't mean you can't make the most of being home! Coming up with fun and creative DIY Crafts will not only keep your kids entertained, but it will keep them thinking. Be sure to share your finished crafts with us on social media!