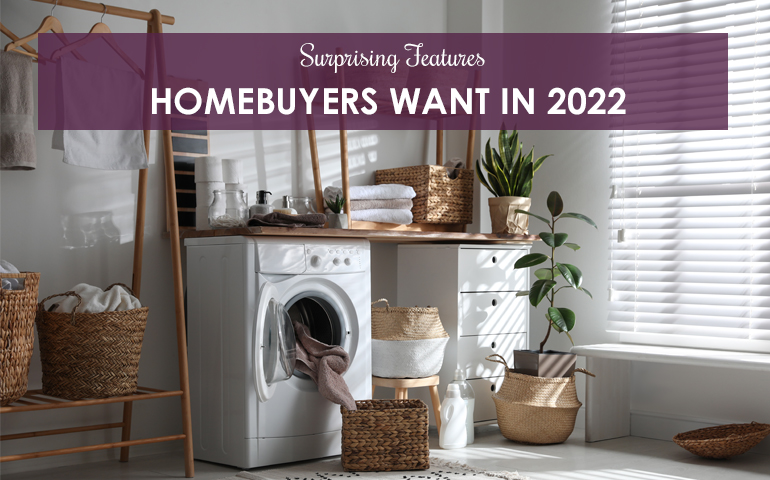 Surprising Features Homebuyers Want in 2022
Virtual interior designer/home stager Stuccco.com compiled a wish list from numerous online sources that experts say homebuyers want in 2022. Many popular features aren't what home sellers may think. Before you upgrade your home to sell, consider these top five homebuyer preferences:
Laundry rooms

Exterior lighting

Ceiling fans

Patios

Walk-in pantries
Laundry Rooms
Homebuyers don't want to go down to the basement to do laundry, so make room somewhere on the first floor. Include a built-in table for sorting, room for a steamer and drip-dry area.

Well-lit Outdoor Living Spaces
Homebuyers want exterior lighting (87%), patio (82%) and a front porch (81%), a rear porch (75%) or a deck (75%). Landscape lighting adds a luxurious glow to outdoor spaces as well as an extra element of security.

Ceiling Fans
With the sudden rise in energy prices, it's not surprising that homebuyers want lighting fixtures to do double duty as an air conditioning aid, especially when cooling or heating a larger home.

Walk-in Pantries
Homebuyers want to be able to stockpile food and paper goods. They want to open the door to the pantry and see at a glance what's on hand.
Homebuyers also prefer two-sided kitchen sinks over farmhouse sinks (81%.) They want a full bath in the living area (80%) and kitchens open to the dining room for less formal dining (85%.)

Homebuyer preferences are changing home design. The National Association of Home Builders reports that new home buyers want bigger homes which now average 2,524 square feet.


Blog post brought to you by: bhhs.com